---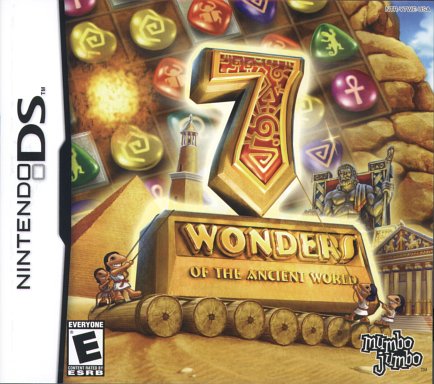 7 Wonders of the Ancient World
Ages: Everyone

This Mumbo Jumbo game started out on a casual game site. That it has migrated to the DS implies that players liked it well enough to want to play it off-line and that's a pretty good recommendation. It is basically a "match three" game but with the challenge of reconstructing the 7 wonders of the ancient world: the great pyramid of Giza, hanging gardens of Babylon, temple of Artimis, Statue of Zeus at Olympia, Mausoleum of Maussolos, Colossus of Rhodes and the Lighthouse of Alexandria – just to refresh your memory. Each level contains building blocks, which as you free them, are carried up by a dumbwaiter to waiting workers who carry them off. Sometimes these workers grumble and sometimes they strike – it is all very cute.
Anyway, it's a long game since you need many blocks to rebuild these edifices – but it's mesmerizing and eventually you will get there. A perfect game for when waiting or traveling – it's an eye thing not a head thing.
You can purchase it from the Mumbo Jumbo casual game site, http://www.mumbojumbo.com/game/game/4 for $19.95. You can even try it out for free.

Fun Factor: The little workers are a nice touch.l
Player Friendly: Game saves at the end of a level but pauses when you close down the lid of the DS.
Reviewed by: Editor - 10/07
7 Wonders of the Ancient World 7
&copy Mumbo Jumbo/Hot Lava
Platform(s): GBDS
To Order: GBDS http://www.amazon.com/ $29.99