---
---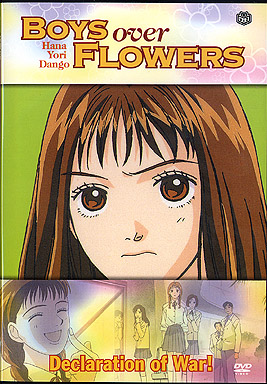 Boys over Flowers
Ages: Teen Library

The Boys over Flowers anime starts with the heroine Tsukushi Makkino from a modest home entering the fancy, upscale Eitoku High. Her attempt to remain unnoticed quickly comes to an end when she encounters and stands up to the bullying F4 - the four Flowers. Strange name for a group of boys - but may be because they are so good looking. Action proceeds between avoiding the advances of the prime bully and her unreturned attraction for a sensitive violin player.
Reviewed by: Editor - 12/04
After every great manga series, there often comes the next step: the anime. Although many of the story lines are changed, and some characters are added, the anime is almost always a faithful representation of the books on the screen. Hana Yori Dango, or Boys over Flowers, is about schoolgirl Tsukashi Makino in her fight with the F4, the powerful group of bullies that run her school.
Although I have never read the Boys over Flowers manga, I got a real good feel for the books by watching the anime. The story is a shojo story, so nothing really bad happens, the plotline is pretty predictable, and there is a lot of heartbreak and angst. However, most shojo is unsuitable for young children. The advice for this DVD is "not rated, parental guidance suggested", and I agree. This DVD contains some situations that might not be proper for young children. Anyone over the age of 10 (or less, depending on what parents thing suitable) would be able to watch this.
Now, being an anime enthusiast, I would recommend watching this in the original Japanese with English subtitles. Real anime watchers shun the dubbed version, which is never as good as the original version. If you want the real experience, then access the bilingual menu and change the language with your remote.
The English voices are okay, compared to most of the dubbing done in anime. Of course, some of the translations are a little weird, but it's quite easy to make out the gist. And as always, it is hard to get a feel for a series from the first disk, so I have no idea how the rest of the series will turn out.
I would not consider watching this over and over again. I might watch it twice a year, if that. I just don't think that this is enough of a series to get one glued to the television night after night. I would rate it a 7 out of 10 for content and art, and I would advise hopefuls not to look too hurriedly for the next disk. While this is an enjoyable romp, it's not an award winner. I would think that pre-teens would enjoy this, but anyone older would not.
Reviewed by: Vivian Baker Age 16 - 04/06
Boys over Flowers
Author: Yoko Kamio
&copy Viz $22.48
DVD
To Order: DVD http://www.amazon.com