---
---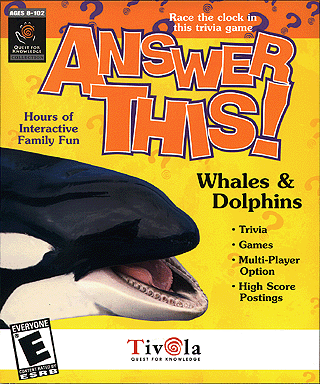 Answer This - Whales & Dolphins
Rating: Everyone

The first thing that you are greeted with is QUIZ, big and fat stamped across the screen - even before you can get to the options menu. This is no way to start a game - even an educational one. It consists of text based multiple choice questions with a few graphic puzzles thrown it.
There are some ambiguous questions which should not be included when true or false is the only option - after all, this is not the SAT. Timing is said to start once you hit your key. Instead it starts when the question ends. Trivial yes, but sloppy. I played all three options Easy, Medium, and Hard and could find no differences between them. The beautiful film clips and actual images of whales and dolphins end as soon as the game starts and you are left with text and drawings. Selections are done by keyboard strokes - letters, number pad and arrow keys. Scores are tallied, two can play (fighting over the keyboard) and there is an online option. For additional educational play one can access the dictionary. The whole thing just doesn't make it into the 21st century.
Editor Review 5/02
Get ready for a quiz game that will have you guessing! This game is all about answering interesting questions about whales and dolphins. You can also put together pictures of marine animals. To me, this game was boring, but I think it was boring because I put the level on easy. All you have to do is use your common sense, answer some questions, and guess what some pictures are and you win! It almost as easy as that. I would only play this game only once because it was not that fun. It had great graphics, though. I think the age range for this game should be 8 and up. I didn't really like this game, but that's just me. I'm sure there are a lot of marine animal loving girls out there that would love this game!
Reviewed by: Sabrina R.
Answer This - Whales & Dolphins
&copy Tivola $19.99
Windows 95/98/NT/ME/XP Mac System 7.5.3 or better
To Order: http://www.amazon.com