---
---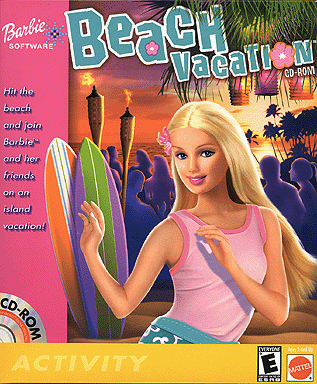 Barbie Beach Vacation
Ages 6 and up

A beach vacation with Hawaiian music, surf and sand could be just the thing to chase the winter chills. The dancing is fun. Throwing a party with hanging lights and balloons anywhere on the island is fun also. Don't expect the same effects with scuba diving here as you did in the Barbie Ocean Discovery(still one of the best). This one is point and click to capture pictures. Sand castles and surfing add to the mix of this piece meal offering. Makes one want to go back and play Ocean Discovery.
Editor Review 11/01
The point of the game is simple. You go to the beach and play completely really bad games to do a stupid worthless, not at all fun beach party. I definitely did not like it. Only little girls would like it and if they play it once, it will be boring the next time they play it again. (As if!)
I hated every bit of it and did not like anything. You choose between beach activities. The sandcastle contest would have been almost satisfactory if you could have chosen the buckets that you had to build with and possibly seen the other people's sandcastles.
The game spelled six letters. B-O-R-I-N-G. The only thing worth mentioning are the graphics, and they were probably one of the worst I've ever seen. The Barbies were messed and little kids would have nightmares looking at those deformed eyes. You couldn't play it with anybody and if you were smart, you wouldn't play it at all. The age range was wrong. It should be D, for "Don't even try it."
Reviewed by Susie Q.
Barbie Beach Vacation
&copy Vivendi Universal Publishing $29.99
Windows 95/98/2000/Me
To Order: http://www.amazon.com