---
---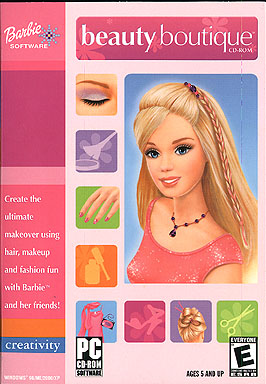 Barbie Beauty Boutique
Ages: Everyone - 5 and up

You start out by selecting one of three friends - Barbie, Theresa or Christie. They all look identical except for skin color. The next step is to select from eight events such as Movie Premier, Wedding Day, New Year's Party which sets you up for the makeover.
This game is not a makeover for the player. It is much like playing with your Barbie doll - changing hair styles and color (yes there is blue and green), and the gamut of makeup applications - eye shadow, blush, lip color and a complete nail works. Forget about making a Gothic Barbie. Once all the makeup is completed, you move over to the clothing selection at the Fashion Stop.
Barbie Beauty Boutique is a game that is basically played by young (5 and up) girls. In spite of the fact that the application of makeup is easy and automatic and the arrow keys rotated the model, the controls are difficult to use. It was hard to highlight selections and almost impossible to highlight the arrows to scroll to other choices. The frustration factor is high. There was more care taken with the Barbie games when Mattel was producing them. Remember Barbie Fashion Designer?
Reviewed by: Editor - 08/03
This game is great for young girls who enjoy playing with make-up only this leaves no mess and the make-up is applied to a computer generated Barbie. Barbie and her two friends, Teresa and Christie, await their makeover controlled by the young player. The big makeover is in preparation for 1 of 8 events that the player chooses. Some of these events include a movie premiere, an awards show and a New Year's Eve party. Whatever friend is chosen for the makeover they are taken to the Beauty Boutique where make-up (eye shadow, blush, mascara, etc…) is chosen and applied by the player. The player also chooses which outfit she will wear, how her hair will be made up including a cut, style, and color, and whether or not she will have designer nails. This game is great for younger girls (ages 5+) however some of the controls can be difficult at first. Once the younger player gets used to and familiar with how everything is applied (a constant push of the mouse button and a couple seconds of wait time for your decision to show) the game becomes easier. However, no matter what event is chosen (wedding day or movie premier) your choices remain the same. Although there are several choices there is no variation between events with outfits or hairstyles. At the end of your makeover you can playback a "video" and see your creation put into action.
Reviewed by: Stephani H. - 09/03
Yeah, if you have daughters that are into Barbie, then they will freak over this one. Mine have played it almost daily since we got it at Christmas. Girls can style Barbie's hair, nails, and to a large extent, her clothes. They can give Barbie or one of her friends a facial and make up their face, eyes and lips. Then they get to select an event to send Barbie to and watch the mini movie roll. Boys won't really care for this title, but if you have girls, I heartily recommend it. AS a dad, I could only sit back and watch as my little girls learned how to do the things they will be doing all too soon.
Caelyn: Oh, I love this game. I like the part where she dresses up and I like to make her hair all pretty.
Lindsey: I love to make Barbie's pretty fingernails. I like to mix the colors and see what I can come up with. Her dresses are pretty too.
Reviewed by: Dad and Caelyn - 7 & Lindsey - 5 - 01/04
Barbie Beauty Boutique
&copy Vivendi Universal $25.99
W98 Me XP 2000
To Order: Win http://www.amazon.com
Game Site: http://www.Barbie.com