---
---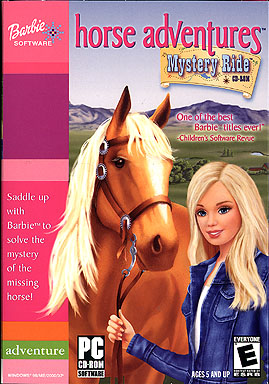 Barbie Horse Adventures - Mystery Ride
Ages: 5 and up

Back in 1998, Mattel's Barbie Riding Club was such a great hit with girls that it is surprising that it has taken so long for Vivendi to put Barbie and horses together again. This is one of the Horse Adventures Series. Vivendi has come out this season with three different games on four different platforms - all different enough to make you want to play them all.
Your goal is to find Lucky and solve the mystery of who kidnapped him. Your searches will take you through interesting and varied trails in Whispering Springs to explore - a tree houses, waterwheel, canyon and caves. Questioning everyone you see is important in picking up clues. In Prairie Town you will find both clues and stores. Don't pass up the Practice Ring near the ranch house. It is important in honing your skills and being able to get to all of the trails. You can play this one over and over - there are multiple endings with different suspects. The controls are designed for the younger set. In fact the horse will pretty much keep through the trails without much user input except for where the trail divides. Basically this is a horse game - Barbie is just along for the ride. Graphically - the horses wins. They move well, look great. Barbie's legs are sooo skinny she looks deformed. When will these designer ever learn!
Reviewed by: Editor - 11/03
This is one of the best Barbie games we have come across. If you have a daughter age 5 or up, then they will most assuredly be playing this game for a long time. You play as Barbie, who is looking for Lucky, who has been stolen. You get to ride a horse from a 3rd person perspective, hunt for buried treasure, solve puzzles, change Barbie's clothes, herd baby goats and cows, and explore several different ranch themed areas. Gameplay, for the most part, is easy for 5 and 6 year olds to figure out. The control scheme is very easy and the puzzles are not difficult for 5 and 6 year olds. If you have a daughter who likes horses, this one is a must. Caelyn: I like to ride the horses because I like the way they run. I like putting the fruits in the right barrels and getting the goats in the gate. I especially like putting in the codes to the lock. There really isn't anything I don't like. Lindsey: I really like doing the secret code and changing Barbie's clothes and riding the horses. I don't like herding the baby cows because they run around all over the place.
Reviewed by: Dad and Caelyn Age 6 and Lindsey Age 5 - 11/03
Barbie Horse Adventures - Mystery Ride
&copy Vivendi $23.99
W98 Me XP 2000
To Order: http://www.amazon.com
Game Site: http://www.barbie.com