---
---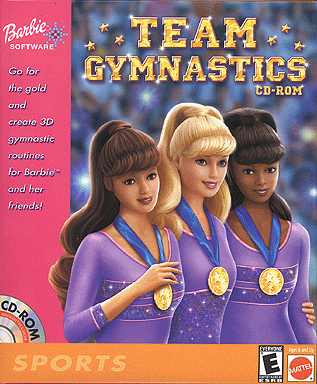 Barbie Team Gymnastics
Ages 6 and up

This one is serious stuff - and you have to know the moves to make workable routines on the vault, uneven bars, balance beam or floor exercise. You can put together different moves to make your own routine, and the game sort of leads you on to making the right decisions. That is, the routine won't close until you have selected the correct moves and have them in a workable sequence. Then you can play it back and if you love it - save it to impress your friends. Competition is introduced by having three players who work to get the gold, silver or bronze medal. Lots of fun for kids who are into gymnastics or even for kids who would like to be; and you don't even have to diet - although the Barbie team looks pretty skinny.
Editor Review 11/01
The point of Barbie Team Gymnastics is to take your team to the National Competition and win. I liked this game fairly well. I think that other girls might like this game. The thing that I liked best was making up my own routines and practicing them. After every competition, if you did well, you win uniforms that you can wear later in the game. In this game, in order to practice, you have to manually press buttons to help the players do well in the competitions.
It was good because it feels like you are actually coaching the team, and if you win, you feel genuinely pretty happy. A problem that I found was annoying was that it shut down and froze a couple of times because my computer was too full, but other than that, everything went well. In the manual, they donít tell you what the buttons mean, so it is hard until you figure out how to work the game.
The game play was interesting. It keeps you occupied throughout the game, but it does get a little repetitive after a while. After each competition, you can watch the performance again and see how you did. (Itís hard to watch during the competition because youíre a little preoccupied). I would definitely play this game again. It was very fun. The graphics were really good. The only thing is that during the competition, the team looks different before, during and after the competition. The sound was very good, but when you are practicing the coach tells you what every move is called and that is slightly annoying. Also sometimes the sound gets a little bit muddled. I shared this game with a 10 year old gymnast and she said it was cool.
You could not play this game with another girl, unless one was content only to watch. This is mainly a one player game. I agree on the age range. Anyone under six would have a lot of trouble with this game, as it is a bit complicated. Overall, this game is most unlike the stereotypical Barbie. In this game, she rocks!
Reviewed by Vivian B.
Barbie Team Gymnastics
&copy Vivendi Universal Publishing $29.99
Windows 95/98/2000/Me
To Order: http://www.amazon.com