---
---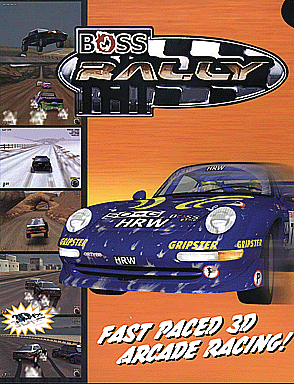 Boss Rally
Ages - Everyone

This one is just fun. You can let off lots of steam traveling at 150 mph in your customized car. I raced with a friend over a Lan connection in my house - but you can do it over the Internet or just race against the computer. You can choose from a number of tracks with differing degrees of difficulty - Coastline, Jungle, Desert, Mountain. Shortcuts add to the competition but it takes a while to find them.
There are sixteen cars to choose from plus you can make additional mods to how the car handles by adjusting the steering, suspension and tires. In Tournament play you can win more points to get additional options.
You really should have a game pad to play the game - it's not worth doing with a keyboard. You will need an accelerated video and at least a Pentium 233. Don't bother with anything less - there is a lot going on and you need smooth movement to control the car. The surround sound is immersive and is exactly what you need to keep track of the competition. Between the graphics and the sound you experience all the excitement and adrenaline rush of rally racing. Just the thing you need after sitting in traffic for an hour.
Reviewed by Carol S. 9/99
Boss Rally
&copy SouthPeak Interactive $29.95
Windows 95/98