---
---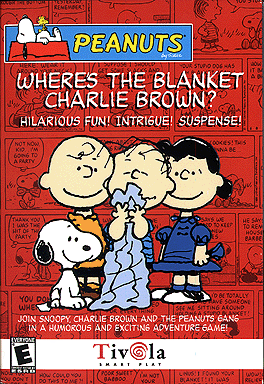 Where's the Blanket, Charlie Brown?
Ages 4 – 8

People will buy this simply because of the title. The game has all the characters from the Peanuts comic strip, Charlie, Lucy, Linus, Sally, Schroeder and Snoopy - but somehow the charm gets lost in the translation. This is one for the very young, with some help with the puzzles. Older kids, accustomed to the richness of the Madeline games with their abundance of clickables will be disappointed.
There are a number of rooms to explore – each with a clue to find. The rooms have been designed with interesting furnishings and objects but few objects respond to clicking and the exploration soon becomes boring. The nine puzzles and activities range from music to threading mazes, matching colors. Two levels of difficulty broaden the age range. The final puzzle requires too much precise mouse motion to be handled by the young ones. Since that last puzzles leads to the solution, big sister might have to help out to save the day.
There is very good help file on the disk that gives clues for each setting. Tivola has been including this kind of walkthrough file in recent games. It's a great idea, since the strategy guide publishers ignore kid games. The game has little replay value and unless you are a Peanuts fan, you will probably not play it more than two times – once as Charlie and once as Lucy. Well, maybe three times – once with Charlie speaking German.
Editor Review 6/02
Where's the Blanket, Charlie Brown?
&copy Tivola Windows 95/98/Me Mac OS
To Orer: B00005V1VR