---
---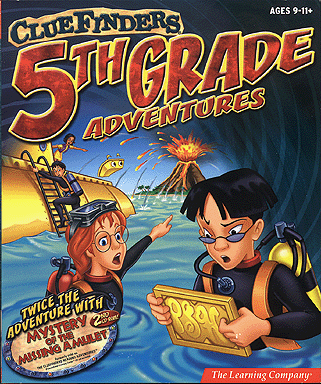 ClueFinders 5th Grade Adventures - Secret of the Living Volcano
Ages 9-11+

Summer's here. If you are looking to keep your academic edge – you might want to dip into an entertainment game. These games use language, computational and logic skill puzzles coupled with an adventure. Often you can get some history, geography and science. The ClueFinders series covers grades from 3rd to 6th. The characters are two boys and two girls and a Lap Trap floating PDA whose voice is about as irritating as Jar Jar's. But hey, I think playing with numbers and words is more interesting than shooting at things. The problem with these games is that there are more exercises than adventure, so here are my tips to you. Parents need not read on.
First. skip the Pre-Assessment test. All this does is to find out what you are good at and then to make the puzzles harder. Remember, fun first! Next, turn off leveling. All this does is reward your skill by making things harder. There's nothing wrong with breezing through and feeling smart. If you get bored, you can always turn the leveling thing back on. There is a help file on the intro screen called User Guide. Check it out. You might want to know what you are getting into.
Now for ClueFinders 5th Grade Adventures.
The team is shipwrecked on a strange volcanic island. Half the team is trapped somewhere and the remaining team must search to find out how to rescue their friends and to find out the secret of the "living island". There are ten puzzle activities, and solving them gets you the Cryptiles you need to enter the other games. There is a lot of puzzle activity here. Two of the higher level puzzles will require you to get 48 tiles each and can get pretty tiresome. Using the map in Lap Trap cuts down the time needed to move between puzzles. Still, it will take you a while to get to the final scene.
If you are the kind of person who only wants to do the puzzles – you can just choose the activities and select the levels. Or you can play this game with Grandma and show her how smart you are.
Mystery of the Missing Amulet is a freebie game that is now included with all of the ClueFinders games. This one focuses on the language cluster –reading, grammar, comprehension, spelling plus a couple of arcade type activities for eye hand coordination. Sounds dull but they are pretty much fun. This time the team has been spirited away to some unknown planet. Their job – to save the planet from destruction by finding two pieces of an amulet. Don't expect to do this in a day.
Editor Review 6/02
When I started playing this game, I wondered if it would be like the last Cluefinders game I had played. The story is different, but the structure is the same. Anyone who's played Cluefinders before won't be in for many surprises.
The story goes like this. The Cluefinders (Owen, Leslie, Santiago and Jonie) are shipwrecked on an uncharted island. The ship's captain (Leslie's grandfather), the crew, and Leslie and Owen are missing! Now Santiago and Jonie have to find them. They are able to make contact with each other over the videophone and you can call them if you need help with the puzzles.
The island is apparently alive and has been swallowing up people since the time of the Revolutionary War. There are lots of puzzles. Math, fractions, reading and grammar are most common. They make the puzzles really interesting and keep you engaged with people who are somehow connected with the task. Also, the music is very good, but repetitive. The graphics are good, but it is annoying how the people are talking, but their mouths aren't moving with the words.
One of the only things I didn't like was that you have to play it by yourself and you can't share the fun. Otherwise, I would say this is a fabulous game for 9-11 year-olds.
Reviewed by Micah M.
ClueFinders 5th Grade Adventures - Secret of the Living Volcano
&copy The Learning Company $19.99
Windows 95/98/2000/Me/XP Mac System 7.1 to 9.1
To Order: http://www.amazon.com