---
---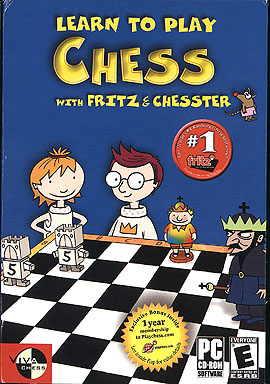 Learn to Play Chess with Fritz and Chesster
Ages: Everyone

Viva (http://www.vivamedia.com) has come out with two chess game learning products. This one is for kids - but it even works for adults who want to start from the ground up. Little Prince Chesster, king for a day, has to defend his father's kingdom from the evil King Black, and so begins his tutoring to meet the challenge. The moves of each piece are presented with such good visuals that they are easily grasped and remembered. The play then goes into mastering end-games before going onto friendly games and finally a match with the Black King.
It is easy to go back and forth to different levels - practice, easy game to a harder one. The force driving the program is the Fritz engine - a serious professional program used to train chess-masters. You get expert training in a fun filled environment. There is an excellent manual on the disk and included in the game package is a one year's subscription to http://www.playchess.com where you can play with other players. Keep this game around. Someone in your family will become totally captivated by it - and beat your socks off.
Note: For serious chess players check out PlayChess Fritz8
Reviewed by: Editor - 12/03
The real point of the game was to learn to play chess; but you get to play all these side games that teach you how each piece moves. Two games we really liked were toilet smashing, where you learn the way bishops move, and Sumo wrestling which was about the King in opposition. It was a bit confusing at first until we figured out what to do (click on different pictures to play different games).
We really liked winning trophies when you master a particular skill in the training gym. It was exciting to reach the different levels lightweight, middleweight and heavyweight; then you get to play chess with King Black. We liked the art, especially King Kaleidoscope's castle which was tie-dye. Lauren especially liked the character of Fritz, who always wants to know everything and is trying to understand everything. Although only one person plays at once, it was fun watching someone play. Marnie, who already plays chess learned more and Lauren who didn't know how to play would like to play again so she can play with real people. We think anyone six and over would enjoy the game and we'll keep playing until we get really good.
Reviewed by: Lauren & Marnie (Ages 7) - 04/05
Learn to Play Chess with Fritz and Chesster
&copy Viva Media $24.99
W98 Me XP NT
To Order: http://www.amazon.com
Game Site: http://www.playchess.com