---
---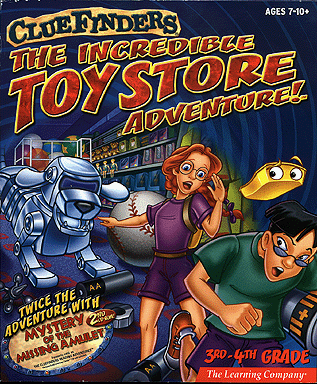 Clue Finders - The Incredible Toy Adventure
Ages 7 - 10+

What couldn't be more fun than being locked in a San Francisco toy store? That is exactly the setting for the new Clue Finders adventure. Of course there are more complications. Half of the team has been shrunk and puzzles have to be solved and clues picked up before the culprit is identified and the anti-shrinking machine can be constructed. The team is an admirable mix of kids - bright boys and girls with appropriate electronic help devices. The learning is substantial. You can't get anywhere without solving games involving word skills, map coordinates, estimating, pattern recognition, money math - you get the idea. There are levels of difficulty that give this game a broad range, and with TLC's auto leveling feature, which tracks how your perform and adjusts the difficulty level automatically, the games can remain challenging. There is a close caption option and a thorough and useful manual included on the disk. A second CD - Mystery of the Missing Amulet focuses on language skills. Again - it follows the same format as the previous one. I object to the Clue Finders logo before each puzzler - feels too much like a promotion. There was no sound with the introduction on the three machines we tried in on. However - sound did come on as the game got started. This game is a bonus for those who purchase the Clue Finders - The Incredible Toy Adventure. I would recommend putting it away for a rainy day. One Clue Finders at a time is more than enough.
Editor Review 11/01
I liked being in the toy store but it was lots of work. I couldn't just walk around and play with the toys. All the time I had to solve puzzles. Some were hard and I had to finish them before I got all the things to fix the machine that would unshrink Leslie and Joni. My sister helped me with the map one. She is in high school. I liked the gumball machine best and the talking elevator was way cool.
I liked the Missing Amulet too. The caves were cool but I had to keep on going back to get more gems. I like to play games over and over. It's fun to know what to do. These games get harder the more you play them which is not so good.
Review by Millie S.
Clue Finders - The Incredible Toy Adventure
&copy The Learning Company $24.99
Windows 95/98/2000/Me/XP; Mac System 8.6 to 9.1 and OSX
To Order: http://www.amazon.com