---
---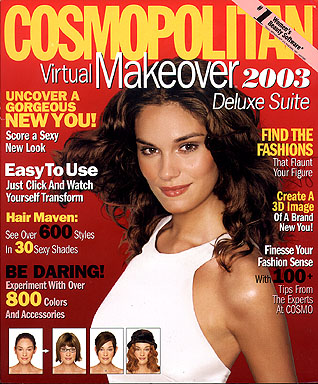 Cosmopolitan Virtual Makeover Deluxe 2003
Ages: 12 and up

This product has improved a lot since I last reviewed it (1998). It is now made up of two programs. One for the head – one for the bod, and they can be used independently. It takes up less disk space than the older versions, has more useable hair styles, better adjustments and shows you stuff in 3D. Cosmopolitan Virtual Makeover handles makeup, hair styles, and accessories – and requires 100 MB of disk space. Cosmopolitan Fashion Makeover allows you to create your own figure, try on clothes and … order them from Macy's. It requires 150 MB of disk space. Boy, imagine never having to leave the computer.
The controls for the makeup gives you express directions to outline your facial features - eyes, eyebrows, cheeks and lips so the makeup you select will be applied automatically when you pick a color. You can then use your mouse to make changes and adjustment. It's worth it to do the outlining accurately because, believe me, the mouse is not the way to put on makeup.
If you don't feel like doing the measurements for your own bod, you can pick from one of four body types. Cosmo deserves kudos for not including a Barbie amongst the choices. In fact, jeans for a couple of the models would be in the "relaxed" category. The product has grown up from a mere amusement to one where you can realistically try out various styles and clothing. You can then rotate the images so you can see what the hairstyle or outfit looks like.
The 2002 and the 2003 are almost the same. The 2002 edition has a larger selection of eyeglass frames while the 2003 has more hair styles. Both have jewelry, hats and bridal veils. I just realized that I should absolutely avoid cloche style hats.
Because the program is so good at what it does, it pays for you to take the time to input your data, and that means – follow the suggestions when scanning a picture of yourself, make the adjustments so your features line up, and put in your measurements. Then play.
Editor review 11/02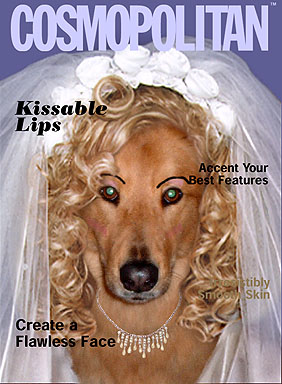 The point of this game is to make yourself over, using many different hair styles, colors, accessories, and makeup, to find the best look for a special day, a new hairstyle, or just to have fun. I thought that this game was useful and fun. When I made myself up, I found hairstyles that were good for any occasion, accessories to fill my hearts desire, and cool makeup, too. The instructions were easy and informative, and the game (if you can call it one) was as long as you wanted it to be. There are two disks, one to make over your face, and one for your body. (Though this game markets the idea that you need to change anything about yourself, it still is fun. Plus, there are no Barbie shaped bodies. Go Cosmopolitan!)
This "game" has replay value; you can use it again and again to find different looks and styles. The graphics were obviously graphics; you can tell that it's fake. The entire program is silent, except for the music, which gets REALLY annoying after the first 30 minutes. (You caes. (You can change it, though) This game could be played with a friend, but that would only be advisable if the makeover was a fake one.
I do not know what the prescribed age group is for this game, but I think that this game would be good for ages 12 and up. (Face it; do you really want a little kid to wear eye shadow and tube tops?) The only problem was entering the picture to change your face. That was complicated. (You have to use a digital camera to send the picture to a special file that is easily accessible.) If made the game, I would make even more hairstyles, different accessories, and more outfits. Other than that, it was a really cool game. And it's not without entertainment value.
Reviewed by: Vivian B. - 02/03
The Cosmopolitan Makeover game was fun, but after a couple of makeovers I realized something. Is it possible for me to pull off something so perfect looking? I mean every look has its flaws, so how could your hair, makeup, and jewelry be that perfect every single day? The hairstyles are made by a computer, so you'll probably never pull it off. Never the less it was fun to see me and my friend's look very sophisticated to very grungy. So if that's what you like, and then buy this game, but if you're looking for new looks (well you can still buy it) but don't expect to reach the look on the computer screen.
Reviewed by: Autumn W, Age 12 - 03/03
Cosmopolitan Virtual Makeover Deluxe 2003
&copy Broderbund $39.99
Windows 95/98/2000/Me
To Order: http://www.amazon.com