---
---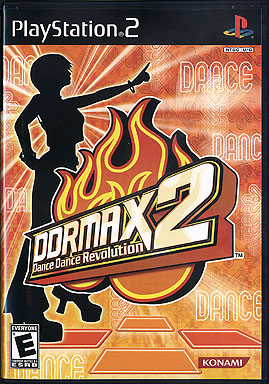 DDRMAX2 Dance Dance Revolution
Ages: Everyone

This new version of the "Dance Dance Revolution" series feels both more professional and competitive. Different modes will attempt to get you up to speed; train you to develop your style; coach you to be accurate with different dance tempos, even provide tips on how to perfect the dance patterns. For the true professionals there is a complete editing mode so you can put in your own dance moves. The music is updated with each new version of the game. This one has, The Crystal Method Jocelyn Enriquez and K.C. & The Sunshine Band. A dance pad controller is required to play.
For parents there is the Workout Mode that is practically like those fancy treadmill machines. You punch in weight, program, time and date and it will keep track of calories burned. Think of it as a way to take off the extra holiday pounds.
Reviewed by: Editor - 12/03
OK, so I played DDRMAX2 the minute I saw my PS2. Whoo!!!! I love this game! The first time I played it was at an arcade about 3 years ago, but now you don't have to pay $1.50 to play it every time! I played it for four hours straight on my PS2 and was SO incredibly fun!!! This is a game that will stay fun for years to come! AND it's good exercise. So I have 2 pieces of advice for you: one, go buy this game immediately. Don't make an excuse, if you don't have time schedule an appointment to go buy this game. Number 2: get a new bar of deodorant just for this game while you are out.
Reviewed by: Autumn A. Age 14 - 01/04
DDRMAX2 Dance Dance Revolution
&copy Konami $39.88
PS2
To Order: http://www.amazon.com