---
---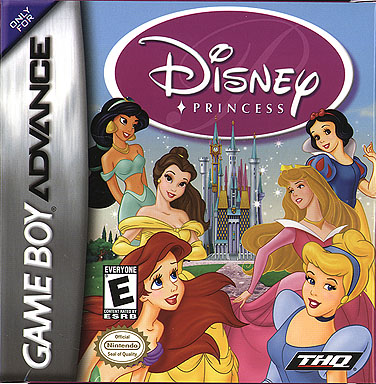 Disney Princess
Ages: Everyone-Kids

Every female protagonist that Disney has ever created rests here in you hand. Snow White must dodge poison apples; Cinderella has to get her cleaning done in time for the ball; Bell has to recover an enchanted rose and battle Gaston; Aurora must change butterflies back into fairies; Ariel swims through weeds and into a cave to find and rescue King Trident; and Jasmine flies about on the magic carpet looking for the magic lamp. Much attention has been paid to create the likeness of the characters. The movement and puzzles are varied. The only problem is that many of the scenes are too dark which doesnít do the game justice. This product needs the Game Boy SC.
Reviewed by: Editor - 06/03
All the favorite heroines are in this game. You choose a princess to guide along their journey. For each princess you must find and collect certain objects in order to complete a specific task. Snow White must travel the forest and mines in search of jewels in order to free the dwarfs from a spell that has been cast upon them by the Evil Queen. Ariel must swim through the ocean battling sharks, sneaky eels and avoiding puffer fish. She must find 4 keys to free Sebastian who has been locked away by Ursula the Sea Witch. The other princess must endure similar adventures. The use of controls are relatively easy. Itís a good idea to read the helpful hints in the manual in order to better prepare the princesses for whatís in store for them. The graphics on this game are excellent, however, some of the scenes appeared dark. This game is best played with a Gameboy Advance snake light or the built-in light in the Gameboy Advance SP.
Reviewed by: Stephani H. - 07/03
Disney Princess
&copy THQ $28.88
GameBoyAdvance
To Order: GB/GBA http://www.amazon.com
Game Site: http://www.disneyinteractive.com