---
---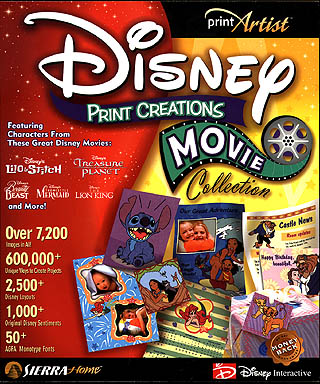 Disney Print Creations: Movie Collection
No rating

Disney Print Creations: Movie Collection is for printing all kinds of stuff. You can print cards, tattoos, finger puppets, clock faces, coloring book pages, stickers, posters, scrap book pages, recipe cards, bumper stickers, mazes, calendars, return address stickers, party stuff like goodie bags, boxes, gift tags, gift wrapping, napkin rings, coasters, hats; posters, banners, certificates, signs (like "Keep Out!" for your bedroom door), postcards, envelopes and matching stationery.
All of these things have different pictures and characters from lots of your favorite Disney movies. The CD doesn't have pictures from all Disney movies (like it doesn't have Toy Story or Bug's Life), but it does have pictures from some pretty cool movies, for example, Lilo & Stitch, Atlantis: The Lost Empire, Treasure Planet, Lion King II: Simba's Pride, The Aristocats, Mulan, and The Jungle Book.
After you install the CD, double-click on the Disney Print icon (the small black circle with the Disney "D" on it) to open Print Creations. (It takes a LONG time to open.) The first thing you'll see is this: On the way left side of the screen, you'll see pictures of all of the categories of stuff you can print. For example, if you click on Posters & More, you see more choices: banners, certificates, posters, and signs.
When you click on one of these choices, like Posters, you see small pictures of the posters you can print. After you select your favorite poster, then you click Open Project (in the right-hand corner of the screen).
If you want to print the poster, you click Print. This part isn't hard. But if you want to change something, like words, it's REALLY hard. I couldn't even figure it out. My Mom had to help me on this part.
Maybe this CD would work for kids 12 and up, but if you're 6 to 11 (or 8 like me), then you will need your Mom, Dad, or big brother or sister to help you.
I would make this CD better for kids by making it VERY easy and fun. I would make it so that if you wanted to change the words, you could just put your cursor on the words and click Delete or Backspace, and then you could write whatever you wanted to write. I think I'll use this CD when my parents are available and when they're not doing anything important.
Reviewed by Callie K. 11/02
Disney Print Creations: Movie Collection
&copy Sierra Home $29.99
Windows 95/98/Me/XP/2000
To Order: http://www.amazon.com