---
---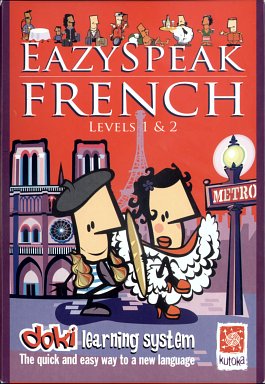 Easyspeak -- French
Ages: Everyone

I give credit to the Kutoka producers of the Mia series of educatainment games. This Canadian based company has a whole stockpile of fun/learning games, but the Easyspeak series is not one of them. In spite of the creative graphics, while it claims to be for children -- it is really for adults.
The lessons are divided into different action maps -- restaurant, bar, hospital, police station, travel agent, time -- with words, spelling, pronunciation and images appropriate to each area. But words do not a language make, and there is not enough progress to sentences and two sided conversation. There is no foreign language/English dictionary, so you spend time guessing what a word means which makes for a lot of frustration.
I tested Easyspeak French with my background of high school French, and found it very disappointing. Not being one of those people who take to languages easily, I had one of those language naturals try out the Spanish version, and she came up with the same conclusion. Easyspeak implies that learning another language is easy and this is unfair to the person hoping to pick up skill in another language. They would be better served by going to their local library and checking out the audio lessons from the Pimsleur Language Program. In Oakland, California these lessons are available to be download to your computer.
Meanwhile, check out the other edutainment games at: http://www.kutoka.com.
Reviewed by: Editor - 08/05
Easyspeak -- French
&copy Kutoka
W98 Me XP 2000
To Order: Win http://www.amazon.com/ $22.88