---
---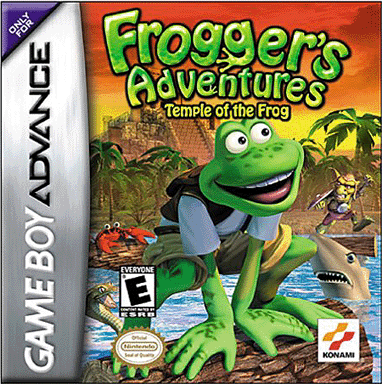 Frogger's Adventures – Temple of the Frog
Everyone

The green pixilated protagonist is back again. There are still the familiar moves – left, right, up, forward and a super jump. While the hazards start simple – they escalate through the levels to dangerous mechanical devices, sudden traps and boss fights. There are enough levels to play through, and plenty of well rendered environment to keep you entertained for hours. If you are a Frogger fan – this one will not disappoint.
Editor Review 2/02
Frogger's Adventures- Temple of the Frog was a very fun game. I really liked it! It was kind of hard for a Frogger game, though. I expected it to be easy, and all I would have to do is try to cross the street, or something like that. I was totally wrong. I've never played a game like it before. I'm not saying it was the best game I've ever played, but I am saying that it was really fun. It was mainly about trying not to get hit by a boulder, a shark, an enemy, or something like that. I think this game would appeal to both boys and girls. The graphics were nice and the music was okay. I think the age range for this game would be seven to adult because even my aunt liked the game!
Reviewed by Samantha R.
Frogger's Adventures – Temple of the Frog
&copy Konami $19.99
Gameboy Advance
To Order: http://www.amazon.com