---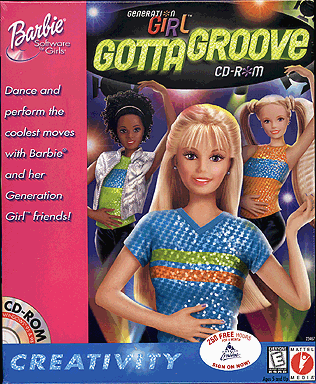 Generation Girl - Gotta Groove
Ages: 5 and up

The pictures on the box don't even give you the slightest sense of how much fun the dancing is. The basic idea of this game is to create a dance performance for two of Barbie's generation girls. To do this you start out by assembling the dance sequence and then go on to designing costumes, choosing music, sets and lighting . Creating the dance sequence is the best. You pick from a deck of dance cards different routines and arrange them in the order you want them performed. Each girl has her own distinctive set of moves and you can even mix and match them.
While you are working on one dancer's routine, the other marks time and vamps. You click on the dancer to activate her and each click advances her to the next routine. There are many possibilities - you can alternate dancers, have each dancer do the other's routine or have them both perform together. There is a challenge to play - (not as easy as it seems) for more cards or more special effects. After you are satisfied with how the dance looks it's time to add the finishing touches - costumes, sets and lights and finally set the performance in motion.
The dance movement has been produced by motion capture and is very realistic. Mocap is done by having luminous markers placed on a dancer, capturing the dance on video and then matching it to the computer image of a character such as Barbie. Generally these sequences - because of the time and cost involved - are kept short, but in this case there are lots of interesting and varied sequences. The idea of working with two girls is a good one since they can dance together. The Generation Girl line is targeted for the slightly older Barbie crowd. The activities are more sophisticated and thankfully, Barbie's voice is pitched at least an octave lower. This activity will keep girls "captured" at the computer for a long time. And another thing - this is a two person game. One girl controls a dancer with the mouse and the other uses the keyboard. Nice of Mattel to make it so. It's the best Barbie product since the camera. Sorry, it's not on the MAC.
Reviewed by Genevieve 1/00
Generation Girl - Gotta Groove
&copy 1999 Mattel $19.95
Windows 95/98