---
---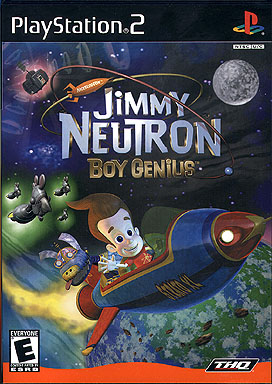 Jimmy Neutron Boy Genius
Ages Everyone 6+

A good game even if you didn't see the movie and an even better and more enjoyable one if you did. Starts out in Retroland Amusement Park where you have to visit six theme parks, Mummy Area, Crazy Mouth and Volcano World, and win a prize in each before you gain entry to the next level. Goddard is along to help out by transforming to a Pogo stick, sled or scooter. Not all the games are of equal difficulty – and you must get thought those awful flying carpets if you are to move on.
Moving on to the next level will have you immersed in a pretty complex space invaders type of game. You have many weapons and many enemies but you can still try to beat the high score. It's OK. I didn't even make it to the screen.
The final level is the one that resembles the movie the most. There you will meet up with King Goobot, Ooblar, Poultra and the Yokian minions – but then you will have all Jimmy's trusty friends to help or save. There are four level to traverse before you finally save the parents, starting with assembling the rocket ship, navigating space, collecting rocket fuel and finally battling the Yokians. Lots of game play in this one. The DVD also contains clips from the movie just in case you need a reminder of how good the movie was.
Editor Review 10/02
Jimmy Neutron Boy Genius
&copy THQ $29.99
PlayStation 2
To Order: http://www.amazon.com