---
---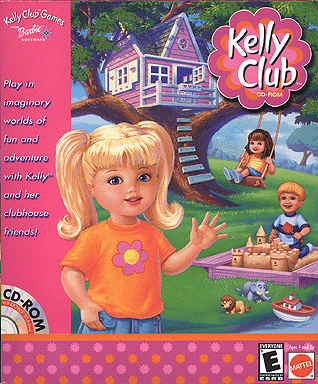 Kelly Club
Ages 4+

There was a simpler time -- a time when little girls could pretend to be a princess, where a unicorn was your friend and knights brought you flowers -- before single motherhood, self defense classes or what happened on September 11th. But perhaps four year old girls can be allowed to keep their innocence a little longer.
In Kelly Club, Mattel puts together all the elements that have been found to engage young girls - dressing up, decorating cakes, planting flowers, setting up a tea party and embellishing a unicorn. For those not in the know - Kelly is Barbie's little sister.
Three simple arcade games, catching stars, gathering bouquets of flowers and collecting items to decorate a snowman will require coordination and mouse manipulation. Moving the pinwheel cursor will take a little experimentation to find out what part of it will trigger effects. A simple help feature would have been helpful, since instructions are not repeated unless your restart an activity.
Kelly Club - Clubhouse Fun Same title - different game from the PC version. The action here is to get all the things required to put on your own magic show. Graphics of course don't compare with the PC version - but you expected that. However, game play is actually more fun. Activity levels can be adjusted to minimize frustration. And hey, girls can play Game Boys too.
Editor review 6/01
Kelly Club
&copy Mattel/Vivendi Universal Publishing $29.99
Game Boy Color
To Order: http://www.amazon.com