---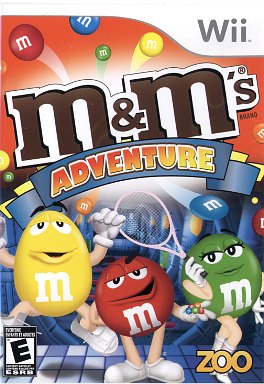 M&M's Adventure - DS/Wii
Ages: Everyone

Oops! It's Christmas eve and 120 green M&M's have been found missing. Three M&M characters: Red, the lobby boss who can fly, Yellow a sleepy cleaner but a high jumper and Green the technician who can't stay away from the lobby for long but who has a battle-ready tennis racquet, have to find the missing candies scattered in the six sectors of the factory and return them to the Candy Collection machine in the lobby.
However, it's not a piece of candy - there are robots to avoid or fight, lasers and bosses in each of the candy holidays, Valentine's Day, Easter, Fourth of July, Halloween and Christmas who will try to keep candies from being taken to the Candy Collection machine.
M&M is a great asset and takes the player pretty far into the game before she realizes that there's not much there besides fetching. Special doors are opened only when you have collected a certain amount of M&M's.
The factory is interestingly enough - camera action is confusing even with controls, collecting items floating in the air is difficult because of the parallax. Wireless multi-card play is available. With so much going for it - it doesn't melt in your mouth.
Wii Version
I'm not sure why I played the DS game first except that something about M&M's felt like it should be handheld.
The game is practically the same on the Wii. The image is bigger, brighter and some details become clearer but the game play is the same. The three M&M's - Red, Yellow and Green have the same skills assigned to them. The tallying of the M&M's is confusing between the ones currently collected, the ones in the Candy Collector, the total score and the numbers left in each of the six levels.
The difference is the controllers - to jump you can move both hands down quickly and to fly, you can flap your arms. Or you can use the A and Z buttons.
QA missed it when they made the tutorial level not returnable. Having not collected the one candy on that level, I was never able to get the ten needed to continue the game. Either, I should have been able to return or not be allowed to leave until I had picked it up. Bad Zoo!

Fun Factor: The candies will sell it.
Female Factor: Lady green has the weapon and the tech
Player Friendly: Plenty of saves but in the Wii version the player must pick up the green M&M in the tutorial level or forfeit the game.
Reviewed by: Editor - 01/09
M&M's Adventure
&copy Zoo Games
Platform(s): Wii GBDS DS
To Order: DS http://www.amazon.com/ $19.99
To Order: Wii http://www.amazon.com/ $19.99