---
---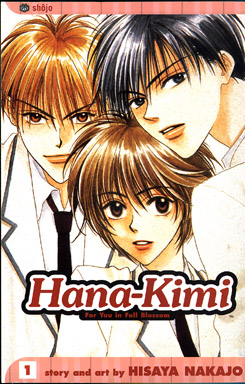 Hana-Kimi
Ages: 13 and up

Mizuki has a crush on high-jumper Izumi Sano. When he decides to go away to an all-boy's school she decides to masquerade as a boy and join him. And, Oops, they're roomates. Before too long Izumi sees through her disguise but plays along with it. Interesting complications when Izumi starts falling for her. Should he tell her and blow her cover? Or face the consequences of boy liking boy?
Reviewed by: Editor - 12/04
Hanazakari no Kimitachi he, (for you in full blossom) known as Hana-Kimi, is no exception to the ever expanding shojo universe. The main character, Mizuki Ashiya, is a Japanese girl living in America. After seeing Izumi Sano, a high jumper, compete on television, she decides to meet him, no matter the price. Of course, the "price" is to pretend to be a boy so she can go to Sano's all-boys school.
The theme of a girl pretending to be a boy is no newcomer to shojo or the literary world. Even Shakespeare used the idea in his play Twelfth Night. However, unlike Shakespeare, this book deals with homosexuality. Some of the characters, not knowing Mizuki's secret, start to question their orientation, and some of the characters are homosexual. I found this book to be remarkably similar to Girl Got Game, a series published be Tokyopop, so you may want to choose one or the other.
A warning to parents: Most manga deal with real life problems and concerns, and a lot of them have adult themes. If you are at all worried about what your child is introduced to, I would recommend researching which series you find appropriate.
Altogether, this book is a fun read, although not something to make you reflect or think to hard. Most shojo books are very light and shallow, and a bit twisted, and this one is no exception. However, I would recommend it as an enjoyable read. Since this is only the first book, it is expected that there will be many more to follow, each as fluffy as this one.
Reviewed by: Vivian B - 01/04
Hana-Kimi
Author: Hisaya Nakejo
&copy Viz $8.96
Printed Book
To Order: Book http://www.amazon.com