---
---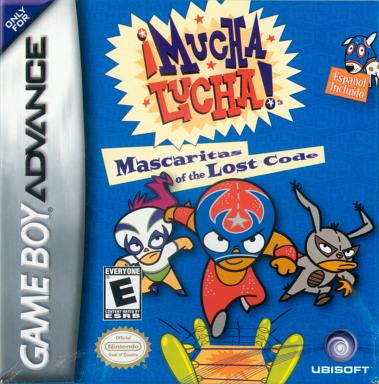 Mucha Lucha -- Mascaritas of the Lost Code
Ages: Everyone

The Mascaritas are three masked wrestlers from the Llucha School who have to find who stole the "Code of Masked Wrestling". You can play as any one of the Mascaritas; Buena Girl, Rikochet or the Flea. Each character has her/his own special moves, Buena Girl, the Bulldozer of Truth, Rikochet, a Pulverizing Pinball and the Flea with his Blazing Turkey of Glory. Hazards exist on all levels but holes are particularly dangerous resulting in immediate defeat for you. The good part is that holes can also be used to defeat enemies. Your opponents are a varied and an amusing bunch with the exception of Boss El Dolor de Kurtz. Yes, they sole him from Conrad's, Heart of Darkness it's an inside joke for your parents. It is good to see Mexican characters in Spanish on the cover art and as game characters.. And you do have a choice of English or Spanish. Good move for Ubisoft.
Reviewed by: Editor - 07/04
In this game the characters have to wrestle their way to the top level and recover the stolen code of Masked Wrestling without getting expelled from the International World renowned school of Lucha (wrestling!). I enjoyed playing this game even though I have never watched the television show. It was just a lot of fun. When the characters find a power up -- donuts that give you health, turkey legs that make your kicks strong, this gives you an advantage over an opponent. There is a power up that is called help a friend and it sends one of the other wrestlers you aren't playing as, shooting across the screen to help defeat your enemies. I like it when the Flea shoots across the screen because he has a very strange signature move he uses the blazing turkey of glory, and its fun. The basic game play is exciting. Its easy to figure out and play. The game only changes from level to level, but I still enjoyed playing it again and again. The graphics were are pretty flat, cartoon like, but they are cartoon characters, these guys aren't 3-D. If a wrestler gets knocked out you see the little birdies circling their heads and you hear little birds cheeping. The characters don't really talk, but if they hit something or someone you hear Pow, or thumping sounds depending on how hard the hit. There is music in the game that just keeps playing and it changes depending on where you are. It isn't annoying. This is a one-player game rated E for Everyone. I think it is age appropriate especially if the kids watch the cartoon all the time. Then they would be really familiar with all the characters. The mild violence is because the wrestlers "hit" other wrestlers with different moves and objects...you can toss barrels etc. I think it was a fairly simple game to learn to play and the controls are easy. If I made the game I would have added voices for the characters and added some talking during the levels. It might be fun to see it done in fancier graphics and add some mini games as a break from playing the regular game all the time.
Reviewed by: Josie Age 12 - 08/04
Mucha Lucha -- Mascaritas of the Lost Code
&copy Ubisoft $17.88
GameBoyAdvance
To Order: GB/GBA http://www.amazon.com