---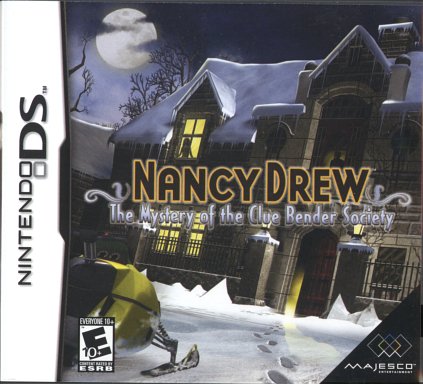 Nancy Drew - The Mystery of the Clue Bender Society
Ages: Everyone 10+

The solving of mysteries in the Nancy Drew stories is really moving around in the game, picking up items, sometimes combining them and solving mathematical and graphic puzzles somehow related to the game in play.
The DS version has been simplified for younger girls, and for taking into account the capabilities of the DS. Movement is curtailed, and instead of free movement - you have the circle technique. Stand inside the circle and Nancy will move to the next scene change. People to talk to have exclamation marks over their heads. The only problem with this is that the marks don't go away after you have already spoken to them, resulting in many repeated dialogues until you learn to ignore them. A cautionary note: make sure you save before exiting - the game is not saved automatically.
In the game, Nancy has been invited to join the Clue Bender's Society - a prestigious mystery solving society having the top ranked creators in puzzles - sound, language, mechanics, design and color. So, you can get some sense of what is in store for our Nancy.
Puzzles are presented at intervals and the player has to solve them to continue with the game. It is an appropriate solution for a simplified game. The mystery involves where to explore and how to use the items and fingerprints you have collected. For something more challenging there are 18 Nancy Drew games put out by Her Interactive. The graphics in the game deserves special mention - they are miniature marvels. Amazing interiors with amazing details. People are pretty good too, and the music themes appropriately spooky. Core gamers might not appreciate it - but it is sure to intrigue girls.

Fun Factor: A good mystery
Female Factor: Hooray for Nancy
Player Friendly: As a kids game - it should automatically save upon exiting
Reviewed by: Editor - 08/08
Nancy Drew - The Mystery of the Clue Bender Society
&copy Majesco
Platform(s): GBDS
To Order: GBDS http://www.amazon.com/ $19.99