---
---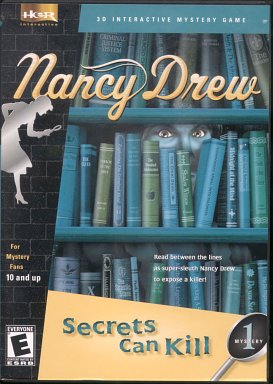 Nancy Drew -- Secrets Can Kill
Ages: Everyone

I have the whole library of Nancy Drew mysteries -- being a Nancy fan -- and I just noticed that I was missing number 1 Nancy Drew -- Secrets Can Kill so of course I had to play it.
I found it interesting that this is the only game that has murder and the only one where Nancy carries a gun. Subsequent games involved, theft of valuable items - jewels, gold, manuscripts, wills and property. Nancy doesn't carry weapons and the villain is overcome by more prosaic means. "Second Chance" was there from the beginning -- once a good idea, always a good idea.
The story of Nancy Drew -- Secrets Can Kill has her come on board at the death of a high-school student and tries her skill at being accepted as a student while prying questions from the student body. You will spend most of your time inside the school building, including the boiler room. The agent that moves the story along is amazingly up to date considering that it was released in 1999.
Is it the best? I have my own favorites but this is a true Nancy Drew story and for some of us fans -- you have to play them all. You can check them out on their website -- they are up to Number 12.
Reviewed by: Editor - 08/05
Nancy Drew -- Secrets Can Kill
&copy Her Interactive
W98 Me XP 2000
To Order: Win http://www.amazon.com/ $14.99
Game Site: http://www.HerInteractive.com/