---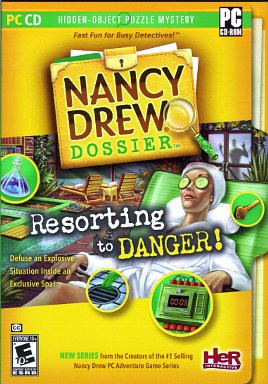 Nancy Drew Dossier: Resorting to Danger
Ages: Everyone 10+

I have been playing every Nancy Drew Adventure game since #1 - They're up to #20. The Dossier series are a spin off to a simpler format - This is #2 - # 1 was Lights Camera Curses. The games keep getting better and better, with improved graphics, more characters and still keeping Nancy behind the camera.
The game is listed a hidden object/puzzle/mystery - and it is all three. Don't expect to be spending most of your time finding objects. The game has a nice balance of finding objects, they sparkle; putting found objects together to make something; using the action buttons - pull, twist, push and plenty of clever puzzles. Even making letters and decoding messages, applying facials are out of the ordinary, and some puzzles like the rotating color balls is a winner. Her Interactive has tweaked the puzzles so that even old ones feel new and interesting.
The game is really designed to make it fun and non-frustrating. Even the conversation dialog is mostly done automatically. The game gets into the action quickly without a big buildup. A simple tutorial goes along with you at the beginning but soon you are left on your own.
The plot revolves around prank bombs being set in a high class spa, and the owner wants Nancy to go undercover to find out why. Besides sleuthing, she has to put up with constant requests for service from the spa's wealthy and eccentric clients. Players get to go inside the fabulous Redondo spa complex, where waterfalls and a lush jungle environment is everywhere, including fish swimming under the floor. It's not always so plush - you also search a cosmetic laboratory with strange vats of liquid and the basement with rats running about. The players are clued as to where to go next. An orthographic plan of the house, spa and gardens makes it easy to find your way about.
When I say that it is easy - by no means do I mean that it isn't interesting. Did I mention that you have to defuse bombs? Different voices are well done, giving the characters more substance. Eventually the culprit will out; meanwhile everyone, staff, clients are suspect. There are six alternate endings to make replay interesting.
I miss the detailed journal that is in the Adventure series - with this game you can't go back, so a running history, besides just the evidence, would be helpful. The "Action" button choices, meant to give the player a sense of interaction, feel a bit contrived and in some places, actually get in the way of the action.
The series needs a better identifiable theme music. In the Adventure series - hearing just the first few bars makes you ready to go sleuthing.

Fun Factor: Easy fun
Female Factor: Best non-visible heroine
Player Friendly: Saves on Menu screen.
Reviewed by: Editor - 09/09
Nancy Drew Dossier: Resorting to Danger
&copy Her Interactive
Platform(s): WVISTA XP
To Order: Win http://www.amazon.com/ $19.99
Game Site: http://www.herinteractive.com/