---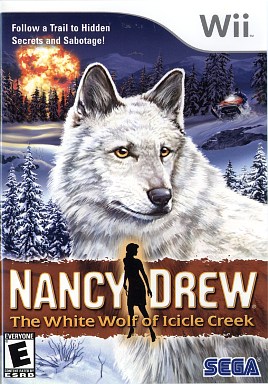 Nancy Drew: The White Wolf of Icicle Creek - Wii
Ages: Everyone

Ha! - you Wii users can now play Nancy Drew - a pleasure we PC players have been enjoying for years. Don't mean to brag, but we are up to Number 19, so if you like playing Nancy, there could plenty more coming.
For first timers - you never get to see Nancy - at least not in Her Interactive's productions. Games usually take place in some interesting place, Nancy does not carry a gun; crimes do not involve murder; the floor plan of the mansions or lodges where much of the investigation takes place will eventually become familiar to you, the puzzle games are often tied to tasks that Nancy must do while being undercover. Oh, and you never die - you always get a second chance.
Nancy is undercover to find out why there are so many accidents at Icicle Creek lodge. She is working as a housekeeper, cook, and has to maintain the ice pond. In between cooking breakfast and dinner, picking up laundry and fixing beds, detecting feels like it takes second place in her busy schedule. She has to snoop around and, at the owners request, has to do a guest profile as a marketing tool, but it's weird stuff. Amazingly, all this still leaves time to search for hidden keys, solve puzzles, find notes, decipher codes, and discover the requisite secret passage.
In this game, danger to Nancy seems to be more from nature and the environment, freezing to death, being buried by an avalanches, attacked by a wolf, but also from man made explosions. Nancy Drew has been retooled to make the game easier to play. The lodge is smaller than the previous "grand " interiors, just a single staircase, only four occupied guest rooms, not counting Nancy's, a single corridor instead of two. Names of the guest rooms are accompanied by icons – a bird, a berry, a lynx, so you don't even have to remember names.
It's an opportunity for a Wii player to play Nancy, I for one prefer the intimacy of the PC and the steady control of the mouse and - number 20 is coming up.

Fun Factor: Plenty to do
Female Factor: Nancy - a can-do character
Player Friendly: Not dying helps
Reviewed by: Editor - 12/08
Nancy Drew: The White Wolf of Icicle Creek - Wii
&copy Sega
Platform(s): Wii
To Order: WII http://www.amazon.com/ $27.99