---
---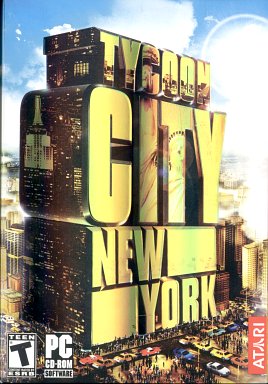 Tycoon City -- New York
Ages: Teen

The intro to Tycoon City -- New York made me so homesick that I must have played it over 10 times. I was just mesmerized at how well they got the look, the feel of the different locals -- even to the billboards on the buildings. It in no way prepared me for the actual game.
The city is presented as a desolate grid of streets and empty lots with just enough landmarks to provide a sense of place. You are greeted by some locals who sound, look and move their hands just like New Yorkers, and they clue you into what they want in their neighborhood. This allows you to take the "opportunity" to build. Tycoon City gives you six categories from which to build; Accommodations, Retail & Services, Food & Drink, Entertainment, Work & Recreation, and Culture & Tourism. The green color on buildings means it's a go and people will appreciate what you build. Red is a no-no (most likely the planning department has some restrictions). There are special lots that are saved for the special NYC landmarks and if you have collected enough Landmark Bonds, you can watch a special NYC landmark being built.
A four color map showing the districts and landmarks of Manhattan is a big help. The game in game mode begins in Greenwich Village. Other parts of Manhattan open up as you play -- China Town, The Financial District, Soho, East Village, Chelsea and the Garment District, Midtown, Upper West Side, Upper East Side and Harlem. The AI will start building too, and will complement what you are doing. If you are building luxury buildings, AI will take care of the supporting business -- If you are developing shops, AI will create the housing structure for the popoulation you need to support your business. Easy peezy. In fact, almost too easy.
Once you build -- you spend time making upgrades -- benches. plantings, signs etc. When your building goes up, people and traffic suddenly appear and you start amassing money. You have to get close to the streets to set the building and make the additions but for orientation purposes it helps to zoom up for a bird's eye view. Up there you hear the sound of wind and see tall buildings poking up through clouds. There is a day/night function because, of course, NYC has a nightlife. There are many very nice touches -- subway exits, streetlights and cars with their headlights on, a ruddy city before nightfall.
I played the game in sandbox mode which means that the entire city is immediately open for building. New York is my town. I have lived, loved and worked there from the Village to Columbia. Even got my architecture degree from Columbia (which is on the map as Harlem U.) So I am very familiar with all the districts -- the people and their wants so I just wanted to get down to building. Which leads me to the only part that I was disappointed in.
New York City has existed since the 1600's. There is no way that I can build an entire city in the time I would allocate to the game. I was expecting that much of the city would already be built and I would do infill and some destruction and replacement. That way I could get rid of the buildings I disliked and impose my design on the area or take out and redo sections of the city. For the best effect, build up a small neighborhoods. That way you can get some sense of the city.
As a reviewer, I remove games once they have been played. This one I will keep around and put in a few buildings whenever I need to get back to New York.
Primagames puts out a strategy guide for the game for those of you who are not native New Yorkers.
Reviewed by: Editor - 03/06
Tycoon City -- New York
&copy Atari
XP 2000
To Order: Win http://www.amazon.com/ $37.99
To Order: Book http://www.amazon.com/ $9.74