---
---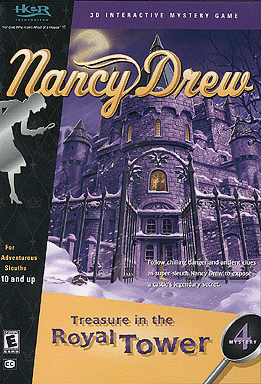 Nancy Drew Treasure in the Royal Tower
Ages 10 and up

Lucky you, there is a new Nancy Drew - just in time for the holidays. This one is number 4 and for those of us who are familiar with Nancy's escapades - the castle layout is hauntingly familiar. But it's not the same and usual settings are not there - which serves to make the exploration more enjoyable.
This is a wander game with relevant puzzles to be solved before the entire mystery comes to a conclusion. On-screen and spoken dialog with people that come and go makes the castle feel a little less creepy and desolate. Alarm clocks, letters and phones connect you to the present day. Things happen at different time of day and night - hence the alarm clock. This is a useful feature in all Nancy games. Her Interactive knows that girls don't like to start games over when catastrophic events happen - they have a step back feature that allows the player to step back in time to change the outcome. I have used it many times. There is a secret involving Marie Antoinette and hidden treasures in this twisted, mysterious castle with its dead ends, locked room and forbidding tower - and you help Nancy to discover it. When you get stuck - try the message board at www.herinteractive.com.
Editor Review 11/01

I think it's very strange how you can fail in this game. I know that there is second chance, but if you can use second chance anyway, why do you have to fail at all? And there should be more help from Nancy. For example, it would help if you know that you had to find the library. Maybe Nancy could say something like: "We gotta find that Library and figure out who did all this stuff to it!". Maybe once you are in the Library and you decide to go out the back door instead of going up the stairs or something, (that's how I failed) that Nancy could say something like "Maybe there's another way out...". And - I think that after you deliver Ms. Hotchkiss's ski boots, and she won't talk to you and closes the door, and after you knock, she should say, something like, "I don't think knocking will really help..." because I just knocked and knocked forever. It should be made clearer where the noises are coming from, like the banging and the type writer.
My favorite part was when you met someone, like when I met first, the lobby person, it's so surprising and I love how you can choose what to tell him, or ask him about. - The graphics were fabulous. - I think lots of girls will like this game, especially those who like Nancy Drew.
Reviewed by Rebecca L.

Nancy Drew Treasure in the Royal Tower
&copy Her Interactive $24.99
Windows 95/98/2000/Me/XP
To Order: http://www.amazon.com