---
---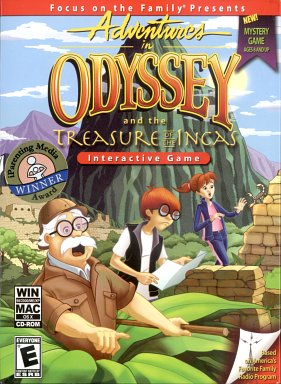 Adventures in Odyssey and the Treasure of the Incas
Ages: Everyone 8+

This is the second of the Digital Praise games, whose tag line is "Glorying God Through Interactive Media". I have already commented on that in the previous review. The game is an adaptation of the Adventure in Odyssey radio programs. This one Treasure of the Incas reminds me of a cross between a Nancy Drew mystery and a Cluefinders game. and voila! what did I find -- the Cluefinders' Magnifying Glass. And there is more of Cluefinders in the game than the magnifying glass -- the exuberance and resemblance of the kids, the game styling, the leveling-up function and the multiple times you have to solve a puzzle before you can advance -- actually it was the last trait that tipped me off. But, hey, it's good. I have missed the Cluefinders these last few years.
The rock that starts the story moving is thrown through Eugene's bedroom, accusing his vanished parents of stealing a treasure found on their archeological expedition and demanding the treasure map.
The team of Whit -- the senior citizen and tinker of Wit's End, Connie, the computer expert and Eugene, whose parents were impugned, harness all their skills to solve this one. It involves setting out traps, decoding Eugene's mothers journal, travel through an endless jungle maze that slows down instead of speeding up at the end, to finally accuse one of the three other side characters in the game.
The hybrid disk plays on multi Win systems including 98 and the Mac. Nice for kids who may not be playing on souped-up machines. If they keep this up, they could fill a space left by the Cluefinders -- intelligent, fun, kids games that don't particularly bore adults. It doesn't have to be Christian, it just has to be good.
Reviewed by: Editor - 07/06
Adventures in Odyssey and the Treasure of the Incas
&copy Digital Praise
W98SE Me XP 2000 MAC OSX
To Order: Win http://www.amazon.com/ $14.99
To Order: Mac http://www.amazon.com/ $14.99
To Order: Win http://www.amazon.com/ $15.99
To Order: Mac http://www.amazon.com/ $15.99