---
---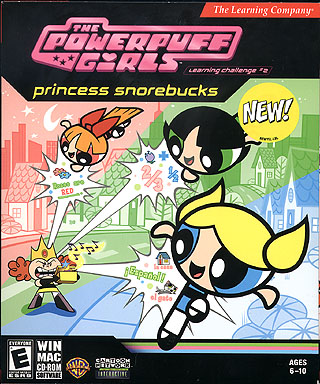 The Powerpuff Girls: Princess Snorebucks
Ages: Everyone

You won't be seeing the Powerpuff Girls streaking across the skies saving Towensville because Princess Morebucks has put them to sleep with her evil sleep machine. Theirs is not a happy sleep - Blossom, Buttercup and Bubbles are having nightmares. To awaken them you must complete various educational tasks. Better than the previous Powerpuff edutainment game, these learning sets are well balanced and quite fun. Blossom needs help with sentence construction that hss been scrambled by roaches, Bubbles is learning Spanish by whacking piņatas and you need to work with Buttercup to divide up her garden to plant flowers. As with many Learning Company/Riverdeep products, there is attention to levels of difficulty and tracking progress. The standard setting for the games is for Auto-Leveling to be on. This means that the game gets harder as your skill improves. I've been known to turn it off. Most importantly there is a printable manual on the disk.
Reviewed by: Editor - 12/03
Wow, if your kids like the Power Puff Girls, they are really going to like this one. This is a game we will keep around for a while because some of the math and learning activities are geared for ages up to around 9 or 10. As the girls progress the story of Princess Snorebucks, they had to help the Power Puff Girls do different activities to further the story. From math and reading, to learning another language (Spanish), the difficulty ramps up the further the story progresses. You can select, to an extent, the age range of the problems, but even so, we found that the better you do, the more difficult they become....which is a good thing. This title will definitely require help from mom and dad, especially if your children are younger. Lindsey was actually doing fractions (she's 5) with this game. Pretty difficult ones too. I don't know if she really comprehends that 1/2 is the same thing as 3/6 or 4/8, but by durn she could play the game and tell you that when 4/8 or 3/6 showed up in a problem, the answer was 1/2!
Caelyn: I really like Bubbles. Lindsey liked this game more than I did, but I thought the Spanish lessons were fun when I had to hit the pinata.
Lindsey: This game is fun! I liked helping Blossom in her garden! (the fraction game). I liked it when I made the man on the tractor fall off!
Reviewed by: Dad and Caelyn - 7 & Lindsey - 5 - 02/04
The Powerpuff Girls: Princess Snorebucks
&copy The Learning Company $19.99
W95 W98 Me XP 2000 MAC OSX
To Order: http://www.amazon.com