---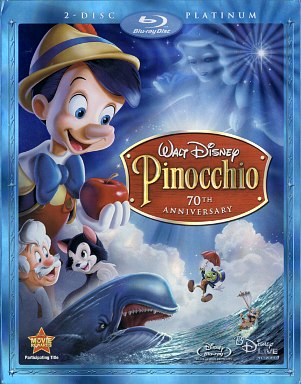 Pinocchio
Ages: General Audience

This 70th Anniversary Platinum Edition is a release that has been eagerly awaited by animators, film buffs and artists. If you are one of these, or if you know one of these - you must pick up a copy. This is one of Walt Disney's finest. Done after Snow White at a studio flush with money and suffused with top talent in animators, artists, voice actors and a supporting staff of inventive photographers, and model makers, this is a movie to be enjoyed almost frame by frame. The Blu-ray hi-def copy brings out the crispness and detail of the masterpiece.
Bonus items on a separate disk are not to be missed. No Strings Attached describes the transformation of the serialized story of a "bad" boy to an appealing, innocent one who succumbs to the wily machinations of "Honest John". There is information about Jiminy Cricket who got smashed-up in the original story. Pictures and Interviews with surviving members of the team are a big win. Interestingly, each character had his own animator and crew. Deleted Scenes and Alternate Ending show a company where the bottom line was artistry. Other bonuses include Pinocchio puzzles and Disney BD-Live Network features.
The story is about a wooden puppet who has been given life by the Blue Fairy to reward Geppetto, the puppet maker, for bringing joy to so many children. The ultimate reward will be for the "live" puppet to become a real boy through being brave, truthful and unselfish. Jiminy Cricket is given the job of being his conscience but is no match for the foxy nefarious Honest John and his mute side-kick (explained in the bonus disk). Pinocchio's mis-adventures lead him to Strombolli, a untrustworthy carnival puppeteer; Pleasure Island which is anything but, and eventually into the belly of Monstro the whale. There is music and singing and the introduction of "When You Wish Upon a Star" which is now Disney's theme song. For those who still do not have Blu-ray there's a standard DVD copy of the movie in the set. Isn't that nice of them? After 70 years the movie is only better - so go enjoy.

Fun Factor: A real treat
Female Factor: Well, there's the Blue Fairy
Reviewed by: Editor - 02/09
Pinocchio
&copy Walt Disney Studio
Platform(s): DVD
To Order: DVD http://www.amazon.com/ $16.99