---
---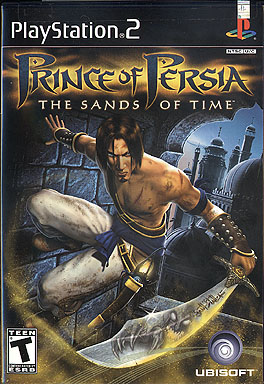 Prince of Persia - The Sands of Time
Ages: Teen - Blood, Suggestive Themes, Violence

This gets my pick as one of the best game for the Holidays that has come across The developers have taken such care with the game - and it shows.In the back story, the Prince has inadvertently released the Sands of Time and unleashed an evil force upon his father's kingdom. To undo his boo boo the must fight many sand creatures, collect enough sand power to finally defeat the Vizier. Prince has a powerful weapon - the Dagger of Time with which he can do all sorts of wonderful time manipulations - slow it down, fast forward, rewind time, stop time and even rewind time which allows you to replay time and undo mistakes and - even your own death (a little like Nancy Drew's "Second Chance").
The graphics are wonderful, curtains moving as you pass by, fantastic architecture and smooth character animation. The game provides an immense world of castles, dungeons, royal chambers, towers, palace ruins, and caverns to explore. The game alternates between fighting and exploring which is good because there is so much to see and fighting all the time gets boring. Good as all these things are, the crowning achievement of the game is the ease with which fantastic maneuvers can be made. The resulting pleasure in the feats you can perform - wall walking, column climbing, and fantastic gravity defying leaps adds a lot to the game. Play it and feel empowered.
Reviewed by: Editor - 12/03
Prince of Persia - The Sands of Time
&copy Ubisoft $44..94
PS2
To Order: http://www.amazon.com
Game Site: http://www.princeofpersiagame.com
---

Prince of Persia - The Sands of Time - Strategy Guide

This strategy guide is as close to a cocktail book for the Prince of Persia as anything will ever be. BradyGames has outdone themselves with the glossy color pages of each area, isometric details, specific numbered steps through difficult areas, original sketches and artwork and, as a clincher, a minutely detailed poster of the entire game environs. They have added a section on the history of the Prince of Persia from its beginnings in 1989 which is a nice touch.
The organization of the guide is well done. Walkthroughs are provided for each action chapter with details on opponents, health/water areas, properties of each weapon found and solutions to the puzzles. If you like the game - you will love the strategy guide.
Reviewed by: Editor - 12/03
Prince of Persia - The Sands of Time
&copy BradyGames $10.49
PS2
To Order: http://www.amazon.com