---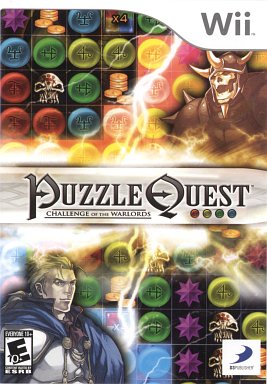 PuzzleQuest Challenge of the Warlords (Wii)
Ages: Everyone

Upon reviewing PuzzleQuest for the DS, I ended up with asking what else D3 Publisher would be doing. Well – it was such a hit that it has been ported to every platform – so take your pick. This year's hot game came is a creative wedding of RPG with a Match Three game.
Nothing is shortchanged - this is a full range RPG with classes, quests, shops, spells, weapons, and armor – even a semblance of a story. The unique and inventive thing about this game is that battle sequences are done by playing a Match Three game much like Bejeweled. You interchange icons adjacent but not diagonal to each other to make up a matching set of three. Your opponent is battling you on the same board. Rewards and upgrades are earned for 4 or 5 puzzle matches. Winner is the high scorer. The game is surprisingly long at this battle level, because you now are playing strategically. Battle over, you are again returned to your quests. As you level up you can take on the more difficult tasks of forging items and researching spells while the extra money you have earned can be exchanged at the Temple for increased skills and mastery.
The game on the Wii feels more intimating and serious than on the DS. On the full screen you can see the symbols on the icons – colors represent different types of mana, gold for purchasing items and skulls to attack your enemy. The map is large enough to encourage exploration and taking on more expansive quests. The Wii Remote is perfect for picking out the gems. The only thing that didn't port well from the DS was the graphics. When the graphics are blown up onto the big screen they look clunky, the set scenes look amateurish and the text becomes unreadable. It's a niggling complaint, but I want it to be perfect.

Fun Factor: An engaging, unique game
Player Friendly: Look at the price
Reviewed by: Editor - 12/07
PuzzleQuest Challenge of the Warlords (Wii)
&copy D3 Publisher
Platform(s): Wii
To Order: Win http://www.amazon.com/ $29.99