---
---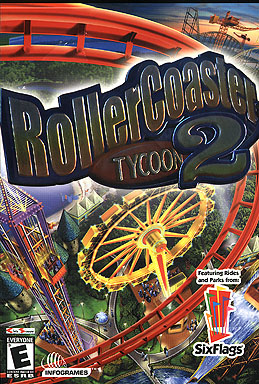 RollerCoaster Tycoon 2
Ages: Everyone

It just gets better and better. This time Blitz Games has teamed up with Six Flags theme parks - which increases the fun and adds an authenticity that makes it a plus for the serious aficionados of the ride.
While, like in the previous game, a player can build and run their own theme, park many of us will focus on the ROLLERCOASTER. There are 25 of them to choose from, which doesn't stop you from building your own. This time the designers have freed you from the constraints of cost, maintenance or pleasing guests - just build the ride of your dreams. So go on to make Barf Express or Max Astro-G Force. All you have to fear is gravity; Oh - and designing the parks and other attractions have been made easier and you can create themes such as wild West, haunted/mystery. But you know where my interest lies.
Reviewed by: Editor - 12/02
I have only one word to use to describe this game and that word is "FUN"! This game is one of the best games I've ever played. RollerCoaster Tycoon 2 is all about building great theme parks and letting people have a blast. If you've played the first RollerCoaster Tycoon game then you will be amazed at all the new things this game has to offer (you will just keeping saying to yourself, "This game is so cool!"). There are little people in the game that go to your park. These people have very realistic facial expressions of what they feel. If they feel sick you can tell. If they are mad, and not having a good time, you can tell. When they are extremely happy you can tell. This game has everything you need to build a great theme park and have a good time doing it. I'd give this game a 9.5 out of a 10 on the fun scale.
Reviewed by: Sabrina R. Age 11
RollerCoaster Tycoon 2
&copy Infogrames $29.99
Win 98/Me/2000/XP
To Order: http://www.amazon.com