---
---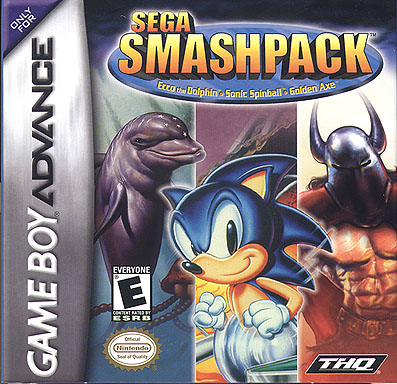 Sega SmashPack
Ages Everyone

Three games in one, but they are old and I couldn't get up much enthusiasm for them with so many new games coming out.
Ecco the Dolphin - Ecco's speed, sonar and mammalian instincts are the only things that can rescue his dolphin friends and save the world (Ed Note – I couldn't even get out of the confines to help them.) Sonic Spin Ball - Help Sonic defeat the evil Dr. Robotnik in an addictive Sonic style and pinball action. Golden Axe - Jump, slash, charge and cast magic spells to defeat Death Adder and his horde of minions, or compete head-to-head in the multiplayer mode. You can play as Tyris-Flare – an Amazon woman from the deep jungles with her unique sword-skill and fire-based magic.
Editors Review 11/02
This collection of games is a very interesting collection. The Sega SmashPackfeatures the games Ecco the Dolphin, Sonic Spinball, and Golden Axe. The only thing these games have in common is that they are all made by Sega. They are all completely different in gameplay and control. While Ecco the Dolphin is hard and confusing, Golden Axe is fun and easier. While it does contain violence, it does not show blood and gore. Sonic Spinball is not all that easy, but also not all that hard. It's like a very difficult pinball game. If I had to rate the whole game at a 1 to 10 rating, I'd give it a 5.5. Most of the games are very difficult and the controls are confusing.
Sabrina R. Age 11
Sega SmashPack
&copy THQ $29.99
Game Boy Advance
To Order: http://www.amazon.com