---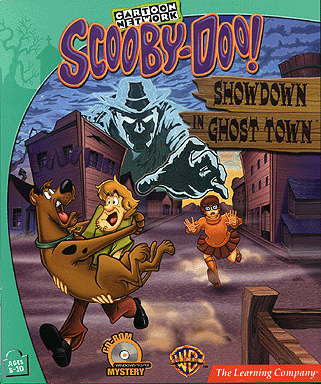 Scooby-Doo Showdown in Ghost Town
Ages 5 - 10

This is the second of the two Scooby-Doo Mystery Adventures to come out his year. It follows the same pattern, same game engine - but that's not bad. I mean, how many of us have played Monopoly hundreds of times? Well, maybe not hundreds, but you know what I mean.
It's the familiar cast of characters. Velma is the stealth group leader. You will recognize her as the girl with baggy sweater, eyeglasses, sensible shoes and all the smart suggestions. Shaggy and Scooby are the scaredy-cats, and Fred and Daphne, the pretties, round out the group.
The action takes place in an old broken down, spooky frontier town. Just like the other mysteries, there are lots of places to explore and clues to find before you can solve the puzzle. As always there are amusing names and situations. For example, there is the pie fight at 12 O'clock high and an old codger is named Gummy Bayer. Even the grown-ups won't mind getting involved.
Editor Review 12/00
Scooby-Doo Showdown in Ghost Town
&copy The Learning Company $19.95
Windows 95/98
To Order: http://www.amazon.com