---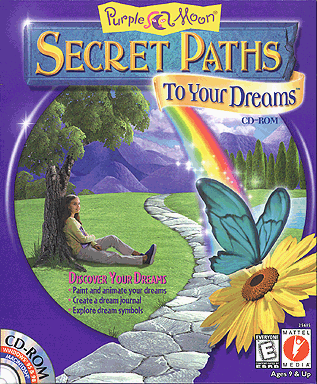 Secret Paths To Your Dreams and Rockett's Camp Adventures
Ages 9 and Up

For the Purple Moon crowd there are two new releases. You will get totally involved with the one on dreams. The camp adventure will bore you to tears.
Secret Paths To Your Dreams is not like the other Secret Paths. There is no wandering. Instead it is a fantasy dream making activity with the Whistling Pines friends along for company. You start to construct you dream by picking on a theme ranging from fantasy, the elements, nature, to the known and the unknown (read - spooky). Each theme offers five background scenes along with nine animated brushes to "paint" with. You don't actually paint in the brush sense - you sort of stamp these objects onto your scene. It's better that it sounds because they are animated - slime makes a gurgling noise, thunder booms, fairies move their wings and rain falls. You can mix these brushes into any of the theme backgrounds and so you have a lot of choices. There is a wide selection of background music and an amusingly realistic set of sound effects. I'm not sure my dreams have sounds - but yours might. When you finish, you can put your dream in your Dream Journal, write a description of it and consult the Dream Dictionary. The dictionary really plays it safe. It tells you that "Feathers can mean softness, lightness or warmth ... but they can also represent being afraid or unfinished". So don't expect any amazing insights - but it's fun anyway .After you have become familiar with where everything is, you can test your memory by reconstructing some of the Whistling Pines friends' dream as she describes it to you and unlock a mystery brush. For those of you who have played other Purple Moon games, here are the same old pals from Whistling Pines and you will even recognize some familiar scenes - and it's fun.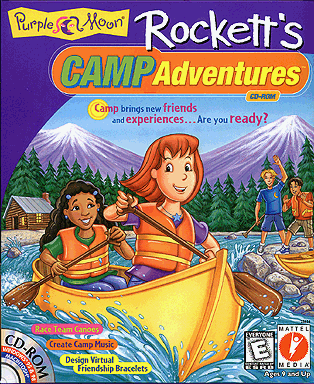 Rocketts's Camp Adventures
I get so mad at the folks at Purple Moon. I want them to make great games, They have interesting characters and situations that ring truer than the ones found in most games for girls. This one is such a disappointment. You are asked to make inconsequential choices that do not effect any outcome. Which means that once you realize that your input is irrelevant, you won't play the game again. There's almost nothing to do - exploring a cave where the hints are unclear and a bracelet making activity. As if the lack of interesting and challenging activities isn't bad enough the game talks to you and talks to you. In one spot you have to listen for 9 minutes (yes, I timed it) between any clickable activity. Inexcusable!
Note: If you are Rockett fan and have missed some of the adventures there is a five set Rockett series (New at School, Tricky Decision, Secret Invitation, First Dance Adventure Maker) on the market for $24.95
Reviewed by Genevieve 1/00
Secret Paths To Your Dreams and Rockett's Camp Adventures
&copy 1999 Purple Moon/Mattel $19.95
Windows 95/98 Mac7.51 or higher
---
Another review of Secret Paths to your Dreams by Raeven and Meghan.

The object of the game was to illustrate one of the character's dreams to get gems. It was a bit confusing and did not give very good directions. The problem was that the help key gave no help at all. The graphics were pretty good and the voice and sounds were very calm and relaxing. While we both played it separately it isn't really a two person game. The age range 9 and up seemed right. We tried the make your own dream part. It wasn`t all that great; you still didn't know what to do when you finished your dream. It was very boring in a way and we wouldn't play again.