---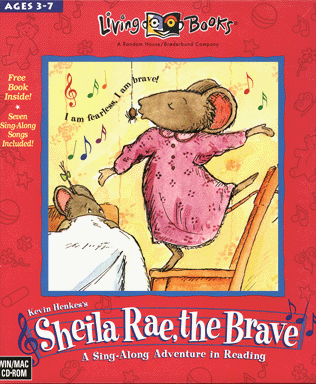 Sheila Rae the Brave
Ages3-7

This is an old one but it's still around. I've seen it in a multi-pack special along with Grandma and Me and Harry and the Haunted House (where, in spite of Harry in the title, it is Amy, the sensible one who saves the day). This is one of the Living Books series - a book, with reading, singing, clickables, a mapping game and a potent message for young girls.
There is no install, the product plays from the disk. The product comes with the title book - natch, and a booklet entitled Beyond the Computer with tips and activities for parent and child - quaint.
Sheila is a brave, fearless mouse who does daring deeds and is never afraid - well almost - an encouraging role model for any age. They don't make them any better.
---
4 Pack
There is a bargain pack of Living Book interactive animated stories that exposes young girls to brave and adventurous role models. They are the old time favorites and they don't come any better. These are best suited to the younger end of their stated age range of 3-8 who will appreciate the slower pace. The books can be interactively played or read in either English or Spanish.
Reviewed by Genevieve
Sheila Rae the Brave (price varies)
&copy 1996 Living Books
Windows 95/3.1 and Mac 7.0/7.5
(7/99)
---