---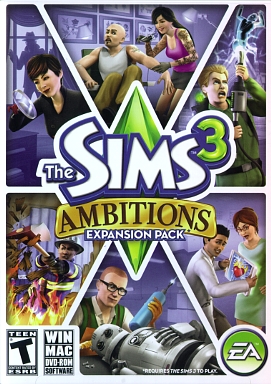 Sims Ambitions
Rating: T - Teen

Find a spouse and a decent place to live. Get a good job, and keep advancing professionally while you start a family. Raise happy kids, but try to keep your house from looking like a dump. Remember to sleep and shower. Maintain close relationships with your friends. Try to do it all before death inevitably takes you.
These are the challenges presented by The Sims 3: Ambitions. Unfortunately, they are also the challenges presented by my actual life, which explains why The Sims in its original form never managed to provide the sort of relaxation and escape I like in a video game. When I'm enough on top of chores to have time to play at all, the last thing I'm looking for is an opportunity to do more dishes. The Ambitions expansion pack changes all that, turning the game into an interesting, slightly fantastic, and altogether welcome departure from real life.
In The Sims 3: Ambitions, going to work is the dullest part of game play – you sit around while your Sim is at the office for hours. The new professions offered by this expansion turn work time into opportunities for game play. Firefighters get called to fires, and you'll need to help other Sims escape from the flames as well as douse them. Architectural designers rearrange furniture and walls for their Sim clients, just as stylists provide new hairstyles and wardrobes. (If you find yourself redoing your house or your Sim just for fun, these professions are for you.) The original doctor profession has been expanded as well; doctors can provide medical care to sick Sims all over town. Ghosts, which have always been part of The Sims, can now be sought after and banished by Ghost Hunters. These activities range from genuinely pleasant to slightly nerve-wracking, and they keep the game interesting.
The addition of laundry sounded unwelcome to me at first (again, something I have plenty of in the real world), but it has a few advantages. Not only do clean clothes give your Sim a mood boost, but the new Laundromat is a great hangout spot. Sims seem to be at their friendliest while waiting for the spin cycle to finish. Other new hangout spots include the firehouse, where a handsome firefighter just might share a recipe or two with you, and the salon, where you can get a makeover or a tattoo.
Best of all is the addition of SimBots, who can join your household in exchange for lifetime happiness points. SimBots need slightly less maintenance than other Sims—they never need to bathe, and they eat garbage, which they will happily collect from the new junkyard. They are also natural inventors, turning trash into treasures which can be sold at the consignment shop. Like any other Sim, you can give them a career path and they'll start earning their keep. But if you don't, they'll stay at home and take care of things, including the kids. It's nice enough to spend my precious gaming time as a heroic firefighter married to a world famous neurosurgeon, but a robot nanny is the stuff my fantasies are truly made of.
Installation was uncomplicated from a CD that includes both Windows and Mac installers.

Fun Factor: Better than the Sims
Female Factor: Up to you. Only female Sims can get pregnant, but there are no other gender-based restrictions. (Female fire fighters welcome!)
Player Friendly: You have to keep The Sims 3 installed on your computer to install this expansion. Expansion CD must be in the drive to play.
Reviewed by: Linda Branagan - Aug/10
Sims Ambitions
&copy Electronic Arts
Platform(s): W7 Vista XP OSX
To Order: Win http://www.amazon.com/ $3995
To Order: Mac http://www.amazon.com/ $3995