---
---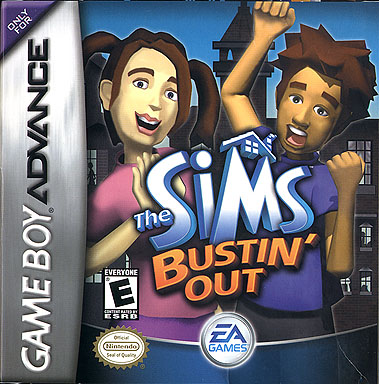 Sims Bustin' Out
Ages: Everyone

Wow - having all those little people running around in my pocket is better than having a live ant farm. This new, all-platform release - Game Cube, GBA, Xbox is sure to create a new generation of Simcoholics. I must admit that I got the GBA-SP just for this game.
Virginia MacArthur, the producer deserves lots of credit for creating a Sims game that fits into the confines of a handheld. First off - it had to be quick to pick up because there were going to be players who never played the game before (there must be some) an yet it had to please old time players. The Sims growth had to be accelerated and yet provide the character with a reasonably wide selection of choices. Half the fun is seeing how they did it.
You start out by giving your Sim a unique appearance. You must earn you Simoleon by playing mini-games and buy stuff in stores and at auctions. There is enough in this game to keep you busy for days; 20 different locations, 30 new characters and over 150 new things to buy. You will still have to satisfy the traditional Sims human needs - hygiene, bladder control hanger and social interaction with humor at every turn.
In my hand - such a little packet - such big game
Reviewed by: Editor - 12/03
The point of the game is to find your way around Sim Valley and meet other Sims. I sort of liked playing it, but not as much as my other games. It lacks adventure and action. Driving a tractor and mowing the lawn isn't very interesting to me. It just isn't enough to make me want to keep going and play more of the game. This game is rated E for everyone (six and up) but I think that teenagers might understand it better. If I made the game I would have added a lot more action and adventure. Instead of being Uncle Hayseeds niece or nephew- you could be a police officer so you could chase criminals or an architect so you could then design and build buildings and cities. Being a farmers niece didn't do it. Overall Id have to say if you're already really into Sims, then you would probably love this game, but I found it dull and bland. It is designed to be hooked up to the Game Cube but that only works if you have the actually game for both GBA and Game Cube and the connecting cables. I wouldn't run out for another Sims game right now.
Reviewed by: Josie S. Age 12 - 07/04
Sims Bustin' Out
&copy Electronic Arts $29.99
GameBoyAdvance
To Order: http://www.amazon.com