---
---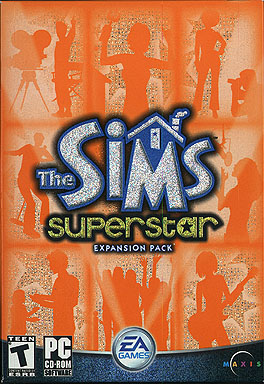 Sims Superstar (Expansion Pack)
Ages: Teen

Ok all you wannabe movie, rock stars, super models – this is the real stuff. Don't think that this is just a fantasy simulation – this is too close to reality. This game is not to be confused with the game American Idol. Think talent will get you to the top – foolish mortal. You will have to curry favor, make nice to your agent, pick famous friends, be seen at the right places, in the right clothes with the right person and any faux pas costs. Producers, directors, photographers have to be cajoled and pandered to as you work your way to the top. This game is lesson on what it takes to become a superstar. Success brings rewards.
The new neighborhood is Studio Town, your new important contact is Lana, Studio Town Production Assistant who knows everyone and everything. What is this town without a paparazzo, devoted and sometimes pesky fans – they are all here. Want to know who loves you baby? Check in with the relationship bars. There are new things to buy and services to afford – as might be expected for a superstar.
There is a whole install manual – and if they hadn't meant for you to read it - they would not have made it. This product requires that The Sims or The Sims Deluxe Edition be installed. Note - removing The Sims Superstar will also remove the above Sims. There are directions on saving previous Sim games. Read before you weep.
Reviewed by: Editor - 07/03
As soon as the "play" screen pops up showing a peppy blond girl filming a music video, you know that this game isn't going to be like the last six. Yes, at number seven in a series of expansion packs, this one has a pretty big reputation to live up to. And it mostly does. As any experienced Sims player knows, there really is no point to the game. It's life, pure and simple. And in Superstar, life comes with a price: tag to be exact. It's just like all the others in the beginning, with new objects and themes, (in-house spa was a favorite) and with a new magazine delivered daily, "The Studio Town Insider". This magazine provides you with the news, including who's "hot" in the celebrity biz. Once you decide you're ready, you can go visit "Studio Town" and rub elbows with the "Somebody's", and "Anybody's" and the "Nobody's". You can also get autographs from such stars as Marilyn Monroe, Avril Lavinge, and Andy the Bartender. When you look at the "Studio Town Insider" you can choose the option, "Get an Agent" If you choose that, then you are headed towards stardom, starting out at the low-end karaoke bars and the open mikes. Eventually you can work your way up to the silver screen, the runway, or even a music video set, if you gain enough "fame stars". And like all the games, friends can shape your career. The graphics of this game haven't changed from the last six expansion sets, so if you've played one of them, you've seen them all. If you haven't, the characters are pretty lifelike, and the objects resemble things you would see in real life. The sounds are pretty lifelike also, unless you take into account "Simmish" the language that your Sims speak, consisting mostly of garbled vowels and consonants. Playing this game with a friend could be possible, but you would have to take turns with the mouse. I agree with the age range (T for Teen) but I doubt that anyone pays attention to it anyway. The game does have some very mature themes that some parents might not appreciate. Some downsides: Once you enter the Talent Agency, you can no longer talk to people about your interests, or ask people things. From then on, your basic vocabulary consists of talking about yourself, your job, the tabloids, and things along that line. Even when you go Downtown, on Vacation, or to Old Town, (Expansion Packs 4, 5, and 6) that's basically all you can talk about. An upside to that is that people come up to you and ask for autographs. Another downside is that the game freezes up sometimes. (Watch for a possible patch coming from http://www.thesims.ea.com) Playing this game again and again is most definitely advised, since nothing will happen while you're away. Each house is a separate saved game, so when you're tired of one family, you can go to another. On a scale of 1 to 10, one being the worst, I would rate this game about a 9, because, honestly, who doesn't like playing God?
Reviewed by: Vivian B. Age 14 - 07/03
Sims Superstar (Expansion Pack)
&copy Electronic Arts /Maxis $29.99
W95 W98 XP NT 2000
To Order: Win http://www.amazon.com