---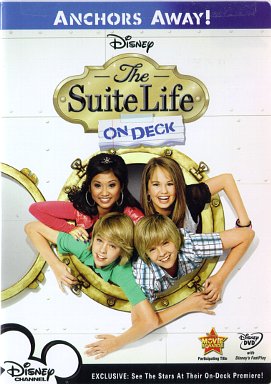 The Suite Life on Deck: Anchors Away
Ages: Tweens

The Zack and Cody I first met in Suite Life were two young kids who took over the top floor of a swanky hotel - sort of Eloise style. They are still up to their attempts to subvert authority, however love interest gets in the way. The brothers, Dylan and Cole Sprouse are not as cute or endearing as they were as kids - but everyone has to grow up.
The four episodes are set on a luxury cruise liner - the SS Tipton, where the kids are enrolled in summer school. With school comes the sharing of cabins and bunk mates and plenty of opportunity to riff on neatness and the incompatibility of roommates. They are joined by Bailey (Debby Ryan) and London Tipton (Brenda Song). London, the conceited heiress, carries most of the show with her one-line closers:
Brenda: "I wouldn't give this up for the world"
London: Taking out her checkbook, "I can arrange that".
Cody romances Brenda and Zack enters the grownup world by casting his eye upon a lovely first-class passenger.
The episodes involve a stolen necklace, a tropical island, a pig vs. dog contest and a wonderful short bit with Gavin MacLeod who changes characters with each different hat. And finally an appearance by Maddie (Ashley Tisdale) who is wooed by a prince.
In one of the extras, the Sprouse boys do a mock interview with Debby Ryan and the wholesomeness of the kids come through. This wasn't allowed to surface over the constant one-liners and laugh track.
The format for these shows becomes clear when you have the opportunity to watch two of them in a row. They are set pieces. Scene opens - dialog consist of set-ups and one liners, there is much mugging, slapstick food in the face - fade and onto the next scene. There is almost no time for the actors to act, while they deliver jokes written by an joke-meister over a constant laugh track.
Again, I deplore the fact that full cast credit does not appear anywhere on the box art. It's unprofessional and insulting to the actors.

Fun Factor: Fun for the fans
Female Factor: The standard formula - one obnoxious girl and one sweetie.
Reviewed by: Editor - 08/09
The Suite Life on Deck: Anchors Away
&copy Disney
Platform(s): DVD
To Order: DVD http://www.amazon.com/ $14.49