---
---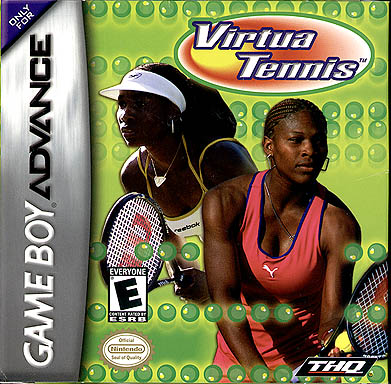 Virtua Tennis
Ages: Everyone 6+

Boy, am I not the person to review this game. I never got past the picking up balls level. As a player you start out with a ranking of 300. Sounds high to me but it's at the bottom level. Fortunately, you don't have to go into tournament mode right away.
So, I started at the Mini-Game level – eight games that are supposed to "hone my skill and increase my chances of winning the big match". Ha! Actually they look like fun – some are really wild. There are the games to improve your speed where ball launchers move from left to right and you try to return the shots and hit the launchers. Hitting launchers also improves your stroke. A bull's eye in the back court is used to improve your control. Playing a Go game with your return is supposed to improve your volley. Breaking eggs in the aft court will improve your power. Doing broken field running on a conveyor belt while picking up fruit will improve your footwork. And accurately placing shots on a checkerboard will make a hamburger. Don't ask!
Should you get past all the above – you can select your player from a list of twelve, including Serena or Venus Williams. Different players have different strengths so pick the kind of player that fits the kind of game you want to play. There are options to play either singles or doubles and different types of courts and if you get good enough, you can pick the locations for your exhibition games. I think I go back to the Minis.
Editor Review 10/02
Virtua Tennis
&copy THQ $29.99
Game Boy Advance
To Order: http://www.amazon.com