---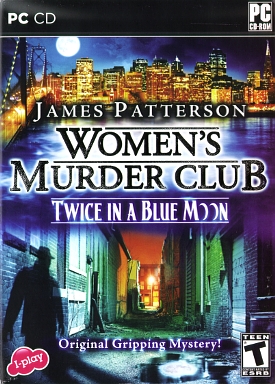 Women's Murder Club: Twice in a Blue Moon
Ages: Teen

Things are getting pretty dark for our favorite SFPD crime investigator - who by now needs no introduction. This time it seems that a serial killer is copying the crimes of the most heinous killers in recent and past history. These are legendary, horrific murderers; Jack the Ripper with his eviscerations; the Boston Strangler with the rape and then murder of young girls; H. Holmes the murderer who lived in Chicago during the Columbian Exposition and who built his own gas chamber. The graphics are played down in the murders so it gets a Teen rating, but the background stories - brrrr. The situation is made even worse by the taunting puzzles left by the murderer.
Linsey and Cindy, the reporter, seem to be working as a pair here, with Cindy doing some heavy data lifting. Claire finds hidden items with her UV light which feels gimmicky since you should have found them by simply looking around - like a comb. Gimme a break. Maybe players don't want to spend time in the lab.
The game follows pretty much the previous successful formula; seek and find areas, many different San Francisco based locations, interspersed with inventive puzzles. Two of the more unique ones are to try to follow the librarian through different doors on different floors and the other one involves a seek and find over a whole block of Victorians.
It all works, it's good and I hope they keep it up. You can try before you buy at www.iplay.com.

Fun Factor: You just gotta find that killer.
Female Factor: All women cast
Player Friendly: Finally numbered the hints.
Reviewed by: Editor - 10/09
Women's Murder Club: Twice in a Blue Moon
&copy I-play/Elephant Entertainment
Platform(s): WVISTA XP
To Order: Win http://www.amazon.com/ $19.99