---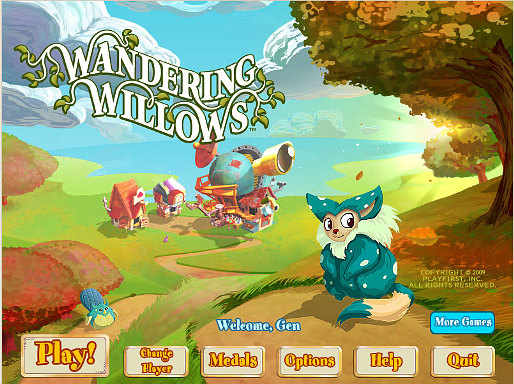 Wandering Willow
Ages: General Audience

Casual games are evolving to go head to head with the "formal" games and soon the distinction will become irrelevant. Even the fact that most are downloaded and sell for under $20, some do make it to a shelf product, and downloads may be the way to go in the near future. But it's the depth of content that is making the difference.
Wandering Willows is an excellent example of this. It starts off with the player being balloon-wrecked on an island inhabited by friendly people who ask you to do favors for them, giving you a chance to curry favors or friendship from them. You start with a pet Torzil who will dig up treasure and climb trees for fruits in exchange for feeding him what he likes - berries will do. You play to get more pets, more friends, more recipes to cook, more plans and patterns to make and more things to find. The game departs from others with a similar story line in that the mechanics of the game is designed to make it fun to play and not work. The designers have eliminated the tediousness of step by step action - tilling the soil, planting, finding the watering can, watering, harvesting, and sending produce to market. Here one click gets a selection of seeds, another waters it, wait till it sparkles and click to harvest. It is this kind of attention that applies to all the facets of the game - Easy is not a pejorative word there - Easy means taking out the frustrating tasks and leaving the fun for the player.
The game has depth - over 41 pets to find and another 42 collars to enhance their attributes. There are close to two hundred recipes and at least one hundred plans and patterns for making things. As a testament to how the game engages people there is a website that lists everything that can be found and where to find the pets. It's on Game Expert - http://www.activeboard.com/forum.spark?forumID=125836&p=3&topicID=26343157.
There is a helpful help button on the main menu and a tutorial to get players up to speed. But I am also including some helpful tips from the designers.
Wandering Willows Tips and Tricks
If you are leaving town, plant and grow some things that you might need later. Even if you donít need anything from the garden, plant and water something anyway so you can sell it later.
If you ever find yourself needing space, buy a bigger bag. Having a bigger bag allows you to carry more stuff which allows you to make more money.
Check what a character likes when trying to increase your friendship. Giving a character what they like is worth double the friendship.
Cooked items give your pet a lot more nutrition than giving it the ingredients separately.
Giving crafted items to characters is worth more friendship than giving them the ingredients separately.
Buy extra butter and thread at the store so you donít have to be in town to cook or sew.
Crafted items sell for more.
Always buy extra teleporter batteries.
Check your petís perk by clicking on their portrait. Pet perks can increase your chance of getting metals, gems, or eggs. Pet perks can also increase how much items sell for and how much friendship you get. The sell and friendship multiplier increases as your petís charm level increases as well.
There are four variations of each pet type. Some variations have more energy and charming power. Check their pet profiles.
Outfit your pet with collars that will combat its weaknesses.
Move speed collars increase your move speed, and not just your petís. Itís one of my favorite collars.

Wandering Willow is available from http://www.Playfirst.com for $19.95

Have fun!


Fun Factor: Easy and engaging play
Female Factor: Play as a girl
Player Friendly: Designers paid attention to pleasing the player.

Reviewed by: Editor - 04/09

Wandering Willow
&copy Play First
Platform(s): DVD
To Order: DVD http://Playfirst.com $19.95