---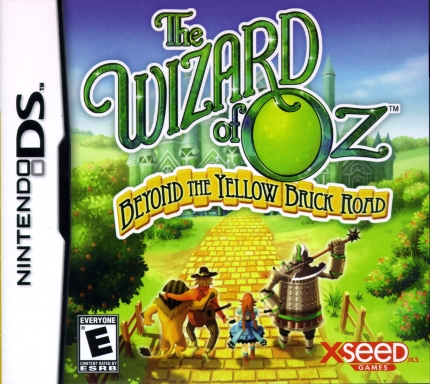 Wizard of OZ: Beyond the Yellow Brick Road
Ages: Everyone

OZ is hot this year with the book and play Wicked - a revisionist story about the Wicked Witch of the West, so why not a new take on the story for a game. You will recognize Dorothy, Scarecrow, Cowardly Lion and Tin Man, but from then on, it is truly 'Beyond the Yellow Brick Road". There's a twist to the story - to get home, Dorothy must vanquish four of the prettiest witches this side of the road, each one representing a different season. It feels a little like visiting Tinker Bell's Fairy Hollow.
With such a rich story history, I was sort of expecting an action/adventure game. Imagine finding out that Dorothy's strength is 1, Scarecrow's also 1, Cowardly Lion's is 2 and Tin Man's is 3. Hey! I'm in a RPG. Each character has strengths against certain types of creature, the battle system is turn based and you select your fighters to fit within a total of 4 strength units. Battle on the yellow brick road is continuous. Road signs that appear at crossroads are for your convenience to mark up. I neglected to see this in the manual and so ended up sometimes going back and fighting the same enemies. Action really begins when you and your companions finally reach Emerald City which acts as the hub were you can shop and save.
The graphics and detail are very good for a DS but I was disappointed seeing only Dorothy during the game's action - Scarecrow, Tin Man and Cowardly Lion only appeared in cut scenes and only as postage sized icons during battles. Music has a decidedly Eastern feel in this particularly Western tale that adds a sense of disorientation that is not necessarily bad.
However, I unequivocally loved the tracball. It acted just like the ones I remember using in CAD. It was sensitive to how fast I scrolled and I could get little Dorothy running so fast her skirts were flying. Because of the wide surface on the tracball, I was able to easily control Dorothy and keep my eyes on the top screen where the action was. It was plenty sensitive for this game - don't know how it would work if precision were required - but I like to see more of the type of control used.

Fun Factor: A light-hearted RPG
Female Factor: Dorothy and the witches get all the attention.
Player Friendly: Game saves upon exiting but in-game saves are not clearly explained.
Reviewed by: Editor - 11/09
Wizard of OZ: Beyond the Yellow Brick Road
&copy XSEED
Platform(s): GBDSDS
To Order: DS http://www.amazon.com/ $27.99