---
---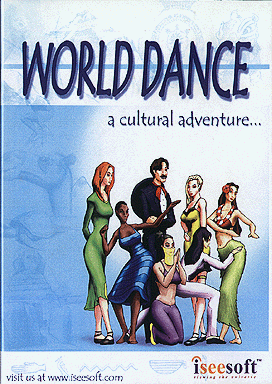 World Dance
Ages: Everyone

Every so often something comes along that is captivatingly unusual. World Dance is a game where you maneuver your dancer around the floor to collect "cultural items" while avoiding obstacles. This description belies the enchantment of the game. The company uses it's own motion capture system to create Lilliputian dancers with unbelievably accurate dance movement. The nuances and personalities imbued into each of the dancers is amazing. Each one of the seven dancers perform in its own location; Hawaii, Senegal, Egypt, France, China, Mexico and Ireland (watch out Riverdance)! The music is in keeping with the dance being done, and adds to the enjoyment.
There are lots of nice touches. As you get near to your goal - the light changes from daytime to evening. In the French cabaret - windows light up, in Hawaii - torches and fires are lit. These are small details that are not necessary to the game but indicative of developers who cared about their product. Oh, and the learning part, according to the company, is the information about the cultures in many parts of the world. But the real learning is in acquiring the skill to translate the symbolic patterns to dance movements on the floor - not unlike map reading.
I am waiting for them to do The Nutcracker and Swan Lake.
Editor Review 12/01
World Dance
&copy iseesoft $14.95 (Holiday price)
Windows 95/98/ME/2000
To Purchase: www.iseesoft.com