---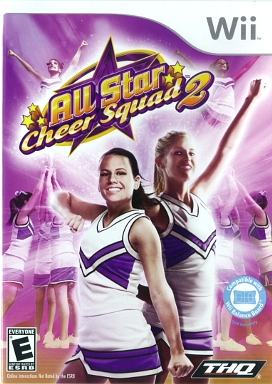 All Star Cheer Squad 2
Ages: Everyone

Don't even try this one unless you are serious about cheer leading. There are some nice differences from the first version: guys can now be cheerleaders, more acrobatics, characters are more realistic, newer songs (see list at the bottom), flashcard review, more playable characters and you start out at the head of a cheerleading squad.
There are many ways of playing, you can watch a routine before doing it, go for Career or Quickplay, and for the more competitive there is a two and four play option. Multiple control options are available - two remotes, remote and nunchuk and remote, nunchuk and balance board. Moves are made with the nunchuk in one hand and the remote in the other. Red signals represents the nunchuk (or left hand) and blue the remote (or right hand), balance board steps are indicated with dots on the board image. Arrows will pass along the Cheer Line, when they pass through the Star you make your moves. You will be doing more than T's and Y's, such as crossing moves and moving arms independently. Practice exercises are done with the instructor towards you which is an improvement over the previous game where she faced away.
Customizing yourself and your team is the usual option. What is unusual, and was also in the original game, is the Routine Designer. You can create your own routine by dragging moves and music into a time line. Very much like Lifeforms, an expensive dance design/animation program that Merce Cunningham used.
Song List
Get Ready For This
2 Unlimited
Mickey
Toni Basil
Pump It (Clean Version)
Black Eyed Peas
Run It Back Again
Corbin Bleu
Song 2
Blur
Tubthumping
Chumbawumba
GNO (Girls Night Out)
Miley Cyrus
Real Wild Child
Everlife
Beat It (Feat. John Mayer)
Fall Out Boy
Glamorous (Clean Version)
Fergie
Get Down With This
Imani Coppola
Tell Me Something I Dont Know
Selena Gomez
Homecoming
Hey Monday
Lets Dance
Vanessa Hudgens
Just Dance
Lady GaGa
Girlfriend
Avril Lavigne
La La Land
Demi Lovato
Leavin(Radio Edit Remix)
Jesse McCartney
Closer
Ne-Yo
Whoa
Paramore
Higher Ground
Red Hot Chili Peppers
Pon de Replay
Rihanna
Walk This Way
Run DMC
Push It
SaltN Pepa
All Star
Smash Mouth
The Power
Snap!
So Bring It On
The Cheetah Girls
Doing It Right
The Go! Team
Popular
The Veronicas
Headstrong
Ashley Tisdale

Fun Factor: A great workout
Female Factor: Yes - mostly girls
Player Friendly: Reminds you about putting on the wrist strap.
Reviewed by: Editor - 11/09
All Star Cheer Squad 2
&copy THQ $
Platform(s): Wii
To Order: WII http://www.amazon.com/ $29.99